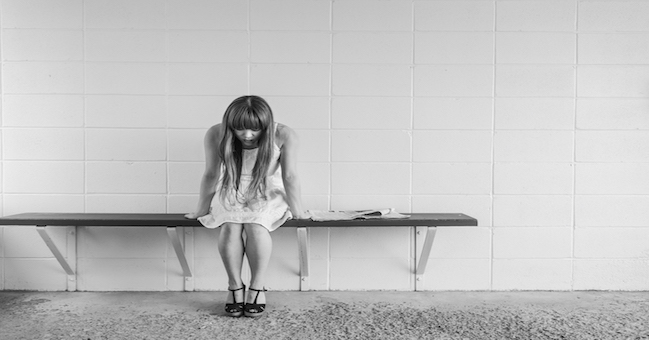 Many people have preconceived notions about the treatment of depression. The media seems to reinforce the idea that psychiatry/psychology is a bunch of voodoo, whoo-whoo, touchy-feely nonsense. While there may be a few good resources and examples out there, the media and internet often scare people away from the help they need. As a follow-up to Depression: Why Can't I Just Snap Out of It? here is some more information you might find helpful.
Depression is a common but a serious disorder, yet less than 50% of those with major depression get help. Untreated, a depressive episode usually lasts four or more months. Depression is not the same thing as being sad or grieving.  Usually these are associated with a particular loss, and unlike depression, people who are grieving don't have irrational feelings of guilt and low self-esteem.
Who's at Risk?
Certain people are at higher risk for depression. Risk factors include having a first-degree relative with depression, being female, the postpartum period, being single, significant stress, experiencing a loss, and having a major medical illness.
Common Symptoms
Depression often presents as vague physical complaints: "I can't sleep", "I sleep all the time", "I have no energy", "I can't concentrate", "I ache everywhere", "I have no appetite", "I can't stop eating", "I feel blah." It isn't a surprise then that primary care providers are often the first ones to see people when they are depressed.  Children especially have a lot of physical complaints and are often irritable.
Common symptoms of depression besides feeling down are anxiety, rumination, sleep disturbances, irritability, trouble concentrating, appetite problems, agitation, low energy or motivation, and an inability to enjoy things like we used to.
How is Depression Treated?
It's always a good idea to start with a visit to the primary care provider because some diseases, nutritional disorders, and medicines can be associated with depression. Ruling out treatable medical causes is an important first step.
Psychiatric providers (therapists and prescribers) often use a variety of screens to get a sense of how bad the symptoms are. It is very important to have a care provider who listens to you; it is equally important that you are candid about your symptoms and concerns. Your therapist or prescriber cannot read your mind, and your feedback is critical throughout the process of getting well again.
Studies show that mild to moderate depression responds well to either psychotherapy or antidepressants. Moderate to severe depression requires both. I am a strong believer in therapy whether or not an individual is on medications. Learning to modify unhealthy thinking and behavior and developing coping or general life skills is an important part of prevention.
Medicine is sometimes necessary to help clients to do the work in therapy. Inability to concentrate, and thus learn new skills, is a problem with many psychological disorders, and medicine can help address this.
There are several classes of antidepressants which affect neurotransmitters in the brain. If one doesn't work or has troubling side effects, very likely another one will be a better fit. It is not uncommon to have to try several before you and your prescriber find the one that works best for you. It is also helpful if you know what medications other family members have taken and how they responded, because patterns of drug metabolism run in families. Again, this is why you must give your providers feedback!
Once you are on a medication that is a good fit, it may take as long as 4-6 weeks for the full benefit of the antidepressant to be apparent. Once the symptoms have gone away, and you are no longer depressed, antidepressants must be continued for 6-12 months to prevent a relapse. At this point, the medication must be weaned slowly, so it is important to discuss this with your prescriber and not abruptly stop the medicine.
There are several therapies that are effective for depression, depending on the issues surrounding the depression-too many to list. You don't necessarily need to know which therapy is appropriate; your therapist will determine what the best fit is for you.
Depression makes life so much harder than it needs to be. If you are depressed, or someone you care about is depressed, don't suffer in silence. There are many options for treating depression.
References
American Psychiatric Association. (2013). Diagnostic and statistical manual of mental disorders (5th ed.). Arlington, VA: American Psychiatric Association.
Beck, A. (1979). Cognitive therapy of depression. New York, NY: Guilford Press.
Carlat, D. (2012). The psychiatric interview (3rd ed.). Philadelphia, PA: Lippincott Williams & Wilkins.
Carpenter, R., & Trull, T. (2013). Components of emotional dysregulation in borderline personality disorder: A review. Current Psychiatry Reports, 15(1), 335.
Crowell, S., Beauchaine, T., & Linehan, M. (2009). A biosocial developmental model of borderline personality: Elaborating and extending Linehan's theory. Psychological Bulletin, 135(3), 495-510.
Fischbach, F. & Marshall, B. (2014). A manual of laboratory and diagnostic tests (9th ed.). Philadelphia: Lippincott.
Lowe-Ponsford & Nutt. (2001). Pathophysiology of depression. Primary Psychiatry, 8(11), 43-48.
McQuade & Young. (2000). Future therapeutic targets in mood disorders: The glucocorticoid receptor. British Journal of Psychiatry, 177, 390-395.
Monroe, Rohsw, & Seeley. (1999). Life events and depression in adolescence: Relationship loss as a prospective risk factor for first onset depressive disorder. Journal of Abnormal Psychology, 108, 606-614.
Procyshyn, R.M., Bezchlibnyk-Butler, K.Z., & Jeffries, J. (2015). Clinical handbook of psychotropic drugs (21st Ed.). Boston, MA: Hogrefe.
Sadock, J., Sadock, V., & Ruiz, P. (2015). Synopsis of psychiatry (11th ed.). Philadelphia, PA: Wolters & Kluwer.
Stahl, S. (2013). Stahl's essential psychopharmacology: Neuroscientific basis and practical applications (4th ed.) New York: Cambridge University Press.
Stahl, S. (2014). Stahl's essential psychopharmacology: prescriber's guide (5th ed.). New York, NY: Cambridge University Press.
Venta, A., Kenkel-Mikelonis, R., & Sharp, C. (2012). A preliminary study of the relation between trauma symptoms and emerging borderline personality disorder in adolescent inpatients. Bulletin of the Menninger Clinic, 76(2), 130-146.