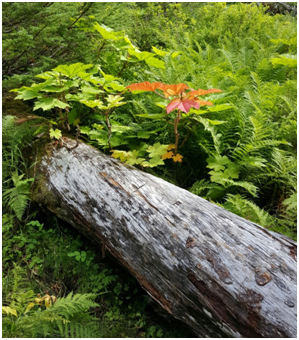 O LORD, how manifold are your works! In wisdom has thou made them all: the earth is full of your riches.
Psalm 104:24
I recently returned from visiting family in Alaska where we enjoyed lots of time outdoors. It was good for my frazzled nerves. My brother and I joked we should make a tee shirt that says, "Less talking, more hiking."
Nature is a soothing balm for soul-weariness. When I lived in Alaska and had enough of life in the city, I would escape to the family cabin. While there time seemed to crawl at a snail's pace, and the stress of modern life seemed completely out of place. Besides the occasional bush plane, I would hear only birds, rustling leaves, and the distant sound of the Resurrection River. There I returned to myself and to the simplicity of essentials: food, water, rest, exercise, and endless views of mountains and skies. Those views put my time-bound problems into proper perspective.
Scripture tells us that nature is a sort of canvas which hints at the nature of God-both achingly beautiful and terrifying. It offers metaphors for life's timeless truths: life and death, peaks and valleys, waxing and waning moons, and seasons slipping seamlessly into one another in never-ending cycle. Nature puts us and many of our issues into proper perspective. I think God designed it to be so.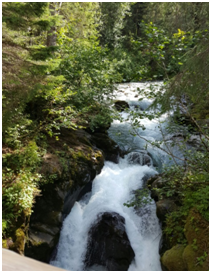 It is a problem that much of our plastic and mechanistic modern culture takes us so far from the natural world. In the 1970s, Francis Schaeffer and Udo Middlemann wrote a little book called Pollution and the Death of Man. It's been years since I read it but it left a lasting impression and its message is still spot on. Essentially the book appeals to believers to embrace environmentalism grounded in deep theological truths.
Our view of nature and its importance is rooted in the notion that each created thing has integrity. If we love God we will naturally love the things he created. Nature deserves our care and respect because it was created by God, just as we were.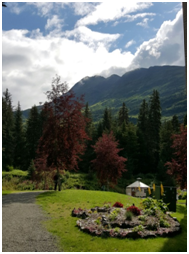 To illustrate the point, Schaeffer uses the metaphor of a beautiful watch given as a gift. Who in their right mind would take that watch, drop it and stomp on it? It was given with love for the benefit of the person receiving it. The environment is like that watch. It was created by God, given to us as a beautiful gift, for our good.
Nature is good for us. To a large degree, our physical, mental, and spiritual health is directly affected by the health of our environment. There is speculation that city living doesn't do good things for our mental health. Our disconnection from nature may be a factor in mental illness rates. The risk of anxiety and mood disorders substantially increases in urban settings, according to the June 30, 2015 Stanford Report.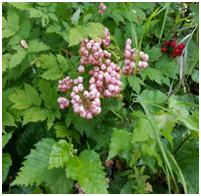 A University of Essex study compared the depression levels of people who went for a walk in nature versus those who walked in the mall. 71% of the nature-walkers reported a decrease in depression compared to 45% of those who walked the mall. And 22 % of the mall-walkers reported an increase in depression!
A study from the National Academy of Science compared folks who walked for 90 minutes in nature versus those who walked in an urban setting. Both benefited from the exercise, but what the researchers discovered was a difference in brain activity of the nature-walking group. The area of the brain connected to rumination–a portion of the prefrontal cortex–was LESS active in those who took a stroll in a natural setting. Rumination–hyperfocusing on negative things–is a prominent feature of anxiety and depression. This study suggests that nature can help with emotional regulation. If this is the case, it is an argument for more green space and parks in our cities!
So as it turns out, it wasn't just my imagination. Nature really IS good for us. Maybe it's time to grab that fishing pole, or plan a hike.
__________________________________
Suzanne Jones, BSN, MA, LPC, NCC
[email protected]
225.278.3541
www.crossroadcounselor.com