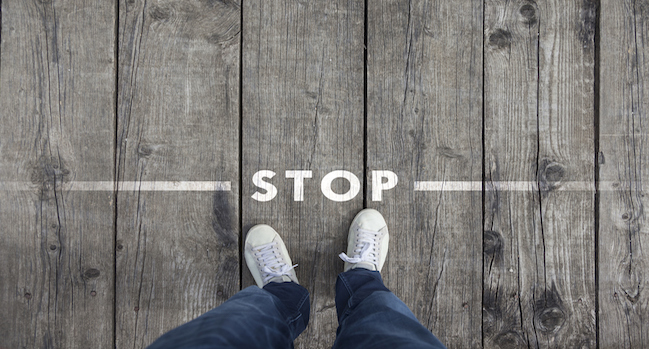 I used to have a mantra about doing it all.  I didn't want to have limits.  I wasn't a completely crazy, off-the-charts, self-destructive rebel, but I had my moments of righteous push back. The phrase you can't make came to mind frequently.  Fortunately, I kept it in my mind and my mouth shut most times.
I worked like an addict and became significantly burned out after 12 years of working 60-70 hours per week.
I ate stuff from boxes and drove through fast food places once or twice a day shoving down food in the car before arriving at my destination.
I spent money on services and stuff that I never really had time to use, just because I could – I needed some kind of payoff for all of the hard work.
I didn't really know the term boundaries; this was circa pre-counselor decades.  I said yes to bosses and co-workers.  I felt guilty for working all of the time, so I said yes to my kids on things they wanted, wanted to do, or didn't want to do.  I never, ever, ever exercised.  Never.
I didn't eat breakfast ever.
I took Advil like candy for daily headaches and sinus issues.
I would go out with coworkers after work and stay out too late and drink which led to poor sleep quality and inadequate sleep quantity.
I was a mess.  Successful by the outside world looking in.  But, I was stressed, felt bad, and was on the cusp of hurting the relationship with my husband and young children at the time.
Our Demise Can Come From Focusing On Worldly Success
But, at the time, I would have said I am doing it all.  By the world's measures I had a successful high level job, a great husband, three wonderful kids, strong earning capacity, a dream house, etc., etc.
I wanted to hide.
Yes at some point so much was too much and I was killing myself slowly.
Things had to change.
I needed limits.
The First Step To New Life
To have true life I needed some limits in my life.
The first step to massive life transformation is finding Jesus of course.  Having Jesus in my life clarified the limits that were important.  My way wasn't working.  The I can do what I want was leading me astray.
Once I knew Jesus, I couldn't hide behind the world's valuation anymore.  In God's view, I was ….. well, I don't really want to know what he thought.
Here are some limits I found very important:
Time Limits
As we know everyone has the same 24 hours in a day.  The commodity is equal for all but how we choose to spend it is individual.  I needed some margin in my life, not a how-to-shove-more-tasks into a given day.  Time management for me became more about values, priorities and seasons of life.  Where the old burned out me would keep pushing until all hours of the night, the new me realized that I had to live my values, not just give them lip service.  I said that my family was the most important thing in my life, however, I constantly prioritized work over them.  I don't mean I worked.  I worked a ton.  Thank Jesus that He pulled me to Him when my kids were still young.
The point is that you have to create margin in your time to make sure that you can prioritize the most important things even in a crunch.  When you have filled in every minute of every day, then if a crisis occurs, major problems ensue.
Also, in general, when every day has no time margin you start to feel like you are letting everyone down.  Whether you are late because something ran overtime, or you cancel at the last minute….you begin to negatively impact personal and professional relationships.
Financial Limits
When I quit the all consuming corporate job to go back to school, the pendulum swung on our finances.  Yes, I had more time.  Yes, I was improving my role as Mom.  But changing our cost of living to match our new one salary family took time and adjustment.  Which in turn added stress…..and now I had much more time to worry about it.
We needed to get back to spending within our means, but now our means was way less.
As a counselor, I have found it is very true, many problems in marriage revolve around finances.  Having lived through it, my heart goes out to these couples.  I want to tell them to make the financial adjustments now.  It isn't worth all of the stuff in the world to endure the stress. Yet, I can't tell you how many people measure their happiness based upon their standard of living.  And, sometimes they measure their satisfaction in marriage based upon the same.
Relationship Limits 
Relationships are what life is really about, aren't they?  Stephen Covey wrote about the emotional bank account in his book Seven Habits of Highly Effective People.  Basically, we need to be putting in more deposits than we take out in withdrawals.  The only way to create a healthy margin in our relationships is to widen the gap of deposits over withdrawals.  This is where the circular comes in.  To create a positive relational margin we usually need more time.  To create more time, we usually need more resources to help outsource some services.
It is hard to imagine creating a lot of relational margin if we are worrying about money, working to the max, and filling our lives with abundant busy-ness.  Abundant busy-ness CAN include too much volunteer work, too many kid activities, an overt need to help everyone in the world except yourself and your family.
The thing about relationships is that quantitative measures, even if positive, are not always a sign of healthy relationships.  Many times it is more about intentionality, keeping commitments, being present, and showing love.  We can spend all of the time in the world with our kids, but if we are cranky, worried, and distant we are not really making a dent in the emotional bank account deposits.
Health Limits
In my 20's and early 30's I had great financial margin and no time margin.
In my late 30's and early 40's I had much better time margin, significantly improved relationships, and much less finances – but still achieved financial margin.
As the late 40's arrived and early 50's, I learned that none of it matters if my health fails.
As we get older, our parents begin to experience the impact of their health margins.  When you look around in your late 40's you get scared when your 60-70+ relatives are more than slowing down.  You start to stress when you pull a muscle just from rolling over in bed or stretching to the back seat of your car to grab something.  You see that a glass of wine impacts your sleep and that excessive junk food makes you sluggish and grumpy.  And if you never, ever exercise, why are you surprised that you can't keep up with your kids on a hike or hurt your back when you vacuum.
We all know someone who was super healthy but still died young.  But, if you are honest, you know a lot more people who smoke, don't exercise, and eat terribly who are sick, unhealthy, and die early.  Some of it is definitely out of our control.  However, we still owe it to God to be good stewards of the body He provided.  We owe it to our kids to not be too much of a burden.  We owe it to ourselves to maximize the time and life we have here.
As much as my mom would say I was a rebellious kid and my husband would say I am a stubborn adult with control issues, I can personally say that when I put healthy limits in place for life, I have more life.
I feel better.  I give more.  I laugh.  I love a lot.  I live to the max.