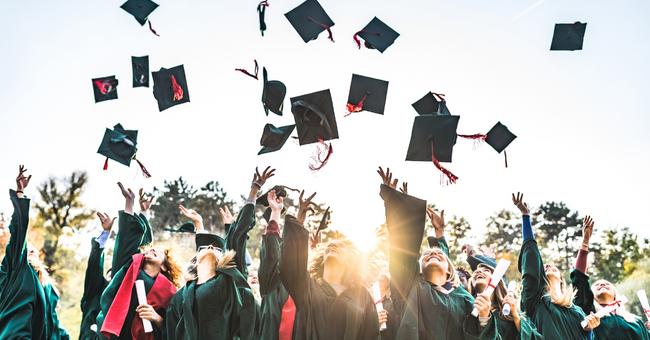 Spring is in the air and for many that means it is time to select a college. It's supposed to be an exciting time, right?! In between final projects and exams, taking the ACT or SAT, senior portraits and ceremonies, you are supposed to make a decision that will affect your life for decades to come!
It can be overwhelming and stressful!
What are you supposed to do?  What should you major in?  How do you know which college to choose? Shouldn't you choose a college based on your intended major? What if the school you choose doesn't have the major you want? How do you even begin to decide what you want to do…for the rest of your life?
Thankfully, there is a solution!
It is completely normal to not be 100% sure about your major as a freshman, and it is normal to change your mind a few times in the first year or so. But I've seen too many students in their later years at university who had serious doubts about the major they chose. By then they had invested hundreds of hours and thousands of dollars and it was much harder to shift gears and change to another major. Don't let this be you!
Five Things You Need To Know
There are literally hundreds of careers paths and academic majors. How do you know which one is the best fit for you? Deciding on an academic major can be a daunting task. Thankfully it is a task that can be managed by taking it in small parts. To make a decision with confidence, there are essentially five areas that need to be addressed: interests, values, personality, abilities, and resources.
1. Who Am I Really?
Personality: Understanding your personality type can also help you decide which careers and academic majors are a good fit. Career counselors have a variety of ways to identify your personality type, but the Myers-Briggs Type Inventory or the Type Focus are two common inventories given to determine this. Finding out more about yourself can be fun. It not only helps you understand yourself, but it may explain a few things about the rest of the family!
2. What Do I Like?
Interests: People tend to do well at what really interests them. What do you enjoy? What are your hobbies? What do you choose to do when no one is placing demands on you? Career counselors often use the Strong Interest Inventory to determine your interests and then use this as a way of matching your interests to career options. After all, you want to enjoy the work you do, right?
3. What Do I Care About?
Values: What matters to you? If you had all the time and money in the world, how would you spend it? Is financial stability important to you? Do you want a family of your own some day? Are you hungry for adventure? Do you aspire to helping others or changing the world in some way?
Passion –a function of both interests and values- is what gives us energy to endure the rough places and makes the work we do feel less like a chore and more like a calling. Living our values helps us stick to our goals even when things get hard. And trust me, you'll need this for college and beyond!
4. What Am I Good At?
Abilities: It doesn't really matter that you like something if you don't have aptitude for it. I might be interested in repairing cars but, guess what? I have NO mechanical aptitude. Thank goodness what I do-and I love it-requires no mechanical skill. What are you good at? In which subjects have you excelled? An easy way to figure this out is to look at your report card, or your ACT or SAT. It is also helpful to ask for feedback from people who know you well such as friends, teachers, employers, and parents.
Some skills are not "gradable". For example, are you known for motivating and influencing people?  Maybe that's why you were voted class president? Do your parents frequently rely on you to assemble new purchases because the instructions look like Greek to them? Do you have a knack for organizing and decorating? Is that why you were asked to serve on the homecoming dance committee? Asking these questions will give you insight into your abilities.
5. Time and Money?
Resources: Begin with the end in mind. Where do I want to be in 5-10 years? And how much time and money am I willing to devote to that goal? Some careers require a time commitment of more than a decade beyond high school. Are you willing to put in the time? If you are hoping for a career that requires graduate school but lack financial resources, now is the time to talk to your parents and financial advisors to explore different options.
What Should I Expect?
If you see a career counselor as a high school junior or senior, your goal would be to have 4-5 career/academic major options. If you are already at university, the focus of career counseling would likely be to narrow your decision down to one career path. A career counselor can help you determine your personality, interests, values, aptitude, and resources, in addition to teaching you how to research different careers and learn more about what you can do with different majors. Career counseling for academic and career decision-making can save an incredible amount time, money, and stress and it can actually be fun!
___________________________________________________
Suzanne Jones, LPC has worked with many high school and college students , helping them find their academic and career direction. She worked at Louisiana State University Career Services prior to coming to Crossroads and has seen first hand what a difference career counseling can make!
[email protected]   (225) 278-3541