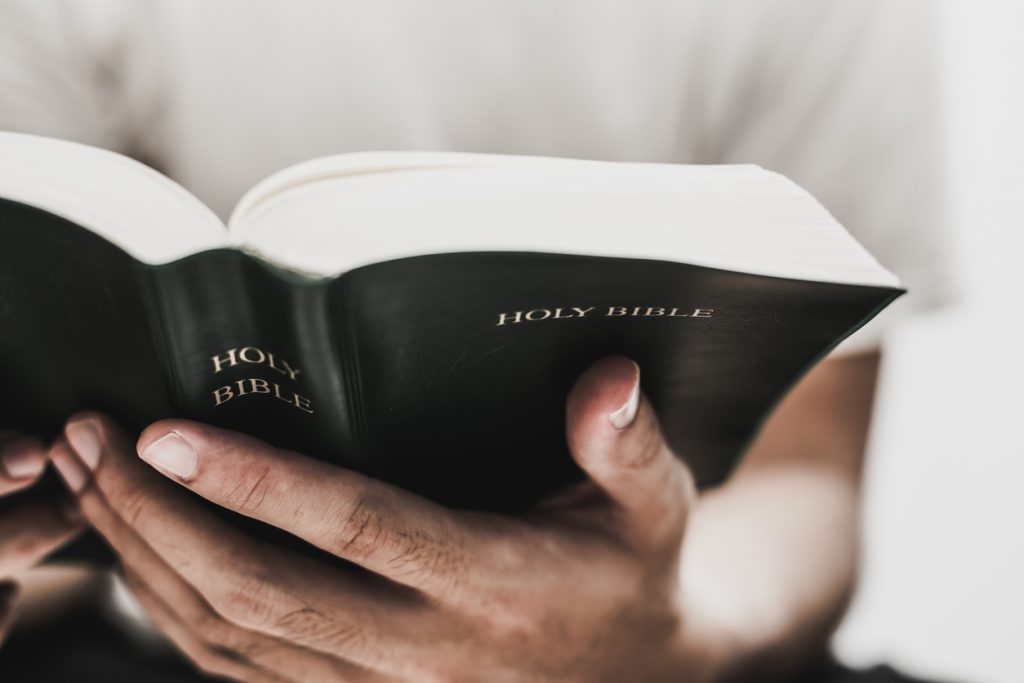 Be Careful What You Believe to be True.
Unfortunately, many of the Spiritual "truths" that we are convinced are in Scripture are actually the result of what we hear when we are growing up, what makes sense to us, and (too often) what we see in movies and TV.
Myth #1: God helps those who help themselves.
What?? This isn't in the Bible? Nope, I am afraid not. Go ahead and Google it. We are so accustomed to this "saying" that we don't even question it. This is actually a quote from Ben Franklin in his "Poor Richard's Almanac" of 1757. He was a smart guy, but he got this wrong.
But what does the Bible say? He gives justice to the oppressed and food to the hungry. The LORD frees the prisoners. The LORD opens the eyes of the blind. The LORD lifts up those who are weighed down. He is a father to the fatherless, a defender of widows,
There are many more specific references in Scripture that tell us that we are not in control. God specifically promises to be there for us when we have nothing to offer Him.
Myth #2: Money is the root of all evil
This also seems to make sense, and it is, in fact, in the Bible, but it is not the whole verse. It is "For the love of money is a root of all kinds of evil. Some people, eager for money, have wandered from the faith and pierced themselves with many griefs." (I Timothy 6:10)
So just because we may be wealthier than some, our money — in and of itself — is not evil.
Marriage impact: There are many wealthy, middle class, and poor families who have great marriages. The question is: Is my love of money more important to me than my spouse and my faith? This can be just as damaging to someone who has no money as well as someone who has great wealth. Often such phrases that are used are "I am doing this for my family." Or "I just want to do a good job and receive a promotion."
Myth #3: Truth will make you free.
Again, this is also in the Bible, but it leaves something out.
The actual verses are:
To the Jews who had believed him, Jesus said, "If you hold to my teaching, you are really my disciples. Then you will know the truth, and the truth will set you free." (John 8:31-32)
And . . . Jesus answered, "I am the way and the truth and the life." (John 14:6)
In most cases, someone uses this quote when they are talking about the difference between being trapped by ignorance and lies – and the freedom that someone experiences when they learn something that is true. So often this "freedom" is temporary and certainly does not have an impact on our spiritual lives.
Another example is when someone says "the truth will make me free," they are often referring to the freedom they feel when they "unload" on their spouse. When we say something to our spouse that is painful (especially when we are angry or irritated), we feel better. "I'm just saying," we might say, which means "I may not have said this in a kind way, but it is true, and so now deal with it." This is not the best approach for a relationship!
The verses themselves draw us first to Jesus. They point out that "The Truth" is embodied in Jesus Himself, and to know true Truth, is to know Him. We demonstrate that we are Jesus followers when we seek Jesus and Truth, want to live as He wants us to live. It is then that we demonstrate that we are "really" His disciples.
Then we will know truth, and then we will experience a true freedom from the bondages that we encounter in life. Including the bondages that prevent us from experiencing joy within our circumstances.
Myth #4: God just wants me to be happy.
This is perhaps the most damaging "truth" of all. One consistent reason that men and women marry is their pursuit of happiness. By that we mean, we experience those warm, fuzzy butterflies that we call love. Often, we have finally found someone who loves us as much as, if not more than, we love them, and we want to experience this intensity of acceptance, safety, and closeness for the rest our lives. Makes sense, doesn't it?
When our basis for marrying is the feeling of love, we are depending on our own happiness and contentment. We then begin to interpret happiness (or mis-interpret love) as what is keeping us together.
When this overwhelming happiness, safety, closeness, and love begin to drift and are no longer present, some individuals and couples begin to ask dangerous questions like:
"Am I no longer 'in love?'"
"I am no longer happy. Why should I do this for the rest of my life?"
"This is not the person that I thought I married. Did I make a mistake? He/she has changed!"
"This marriage just isn't fair."
"This is not what I signed up for. Marriage seems to have changed our relationship – for the worse."
"Did I marry the wrong person?"
"Maybe someone else will make me happy."
And the most dangerous: "God just wants me to be happy. So, if I am not happy, God must want me to get out of the marriage."
Nowhere in Scripture does God say anything about making us happy. In fact, He teaches us just the opposite. Marriage is a lifetime commitment that includes a type of love that is completely different from the "falling in love" feeling.
Scripture does talk about God wanting us to experience joy. But he tells us to "declare it all joy" – sometimes in spite our circumstances. We experience joy as we learn to trust and depend on Him. He can then transform areas of our life that are preventing us from experiencing this joy.
Note: Joy is something that comes from the inside. We long for happiness, which changes with our circumstances. But we have the opportunity to experience joy in spite of our circumstances.
If we are depending on our spouse to provide our happiness, we will be very disappointed. But, you already know that!
So, we must begin with changing the reason that we married our spouse. . . and the reason to stay married. If happiness is not something I can depend on (although it is nice when it happens!), then what?
God designed marriage in such a way as to provide us with the opportunity to experience a closeness, safety, and intimacy. A relationship that has the potential of reflecting Christ's love for us: Unconditional. Unchanging. Eternal.
But let's face it, we mess this up all the time. Our own tendencies for selfishness get in the way.
But what if God did not designed marriage for our own benefit? Instead He wants us to learn how to provide our spouse with this closeness safety, and intimacy, and in this way become more like Jesus. He want us to be His tool so that our spouse can experience a relationship that is supernatural and reflects the heart of God?
After all – God calls us to become more and more like Jesus. What better way to train us than to use our lifetime commitment to our spouse? God will use our spouse and our relationship to change us!
As we become more like Christ – we are "free" to give ourselves to our spouse with no conditions, no expectations – no strings attached.
One of the best books that explains this idea is "Sacred Marriage" by Gary Thomas. It poses the question "What if God did not design marriage to make us happy, but to make us holy?"
Wow! That is a completely new idea for most of us.
Additional Resources:
Want to learn more about how to transform your marriage into something that you can anticipate for the next 30+ years instead of dread?
Give Steve Fox a call at CrossRoads or e-mail him at [email protected].  
Look at some of his previous blogs here.