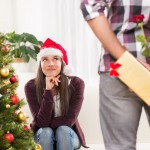 Eight Christmas Gifts that May Save Your Marriage
Having trouble picking out the "perfect" gift for your spouse ?  Want that creative "something" that will make a difference?
Consider these Christmas gifts of action that you can give your spouse.  They can be the perfect gifts no matter what the state of your marriage:  If you want your marriage to be the best it can be, if you have become bored with mediocrity, or if your marriage is teetering on the brink of separation or divorce.
Try these out.  They won't be easy or come naturally.  But just like learning to ride a bike, drive a car, or learn a new language, these gifts can develop into new patterns that can alter your marriage journey.
Savor the Moment
Many of us are very "future oriented."  We are often planning for the next day or the next week, almost ignoring the experience "in the moment."  Take the time to enjoy your spouse and focus on what they are really saying.  Or simply enjoy the companionship and time together.
Verbal Appreciation
We may often be grateful for something our spouse has done, but we are not about to say anything.  After all, they don't deserve it.  Yesterday they did not treat us "right." Or perhaps we are still mad at them for what they did last week.
A simple comment of appreciation for what our spouse has just said or done can change the atmosphere of the entire home.  It softens both our perspective and the attitude of our spouse.
The more "undeserving" (from our viewpoint), the greater the Christmas gift.
No matter how often my wife cooks us dinner, I am sure to thank her and tell her how much I appreciate what she does.  Perhaps not every night, but at least several times a week.  My "jobs" (not a complete list!) include cleaning up after dinner, making the bed in the morning, and being sure the coffee is made and ready before she gets up.  Again, she consistently thanks me.   It does make a difference.   And because it is not "necessary," the thankfulness becomes a gift.
Forgiving Our Spouse
We often "hold onto" anger and bitterness for something our spouse did to "wrong" us several days, weeks, or even years ago.  Why?  Because the anger feels so good in the moment.  We are convinced that we have a right to be angry because of what they said or did.   But WE are the ones who go through the emotional and physical stress.    The question I need to ask myself is:   How well is this working for me?  Is being angry, speaking spitefully to my spouse, and making unkind comments changing the way they act?  Of course not.
So give yourself as well as your spouse a gift of forgiveness – overlooking the wrong and offering kindness, love, and acceptance instead.
Spend at least 30 minutes in uninterrupted conversation. 
This doesn't sound like much.  Thirty minutes only?  What good will that do?
Studies show that most couples don't spend even 30 minutes a week with a focus on each other.   Life interrupts.  The kids always need something.  Or perhaps I am too tired.  After all, we are always talking about something!  What else do we have to talk about?
My wife and I try to have "coffee time" once a week.  It's a time to slow down and focus on just each other.  To us, this is a time to sit on "our" comfortable chairs in the living room without social media or TV, and to simply talk about our day, and what our plans are for the next week.  Sound simple?  Often it is.  Nothing earth shattering.  No world problems solved.  But so often, many of our urgent concerns and worries of the day can creep into this time and "force" us to put it off.  We don't mean to.   "Not today, I have too much to do" can often turn into days and even weeks before we again focus on real, meaningful conversation with each other.
Once this 30 minutes a day becomes our routine, we find that we miss it if we don't make that time.  And often 30 minutes becomes an hour, and once a week becomes twice or three times a week.
Choose one activity a month that your spouse enjoys (and that you don't!) and insist that the two of you do it.
This can be a hard one.  Why?  We have to give up "our own" time for something we don't want to do.  We need to become a student of our spouse to find out what they want to do.  For many wives or husbands, they have simply given up on the hope of that activity.
It can be as easy as attending together a sporting event or watching it together on TV.  It can be going to a symphony concert or shopping (the process, not "the hunt").  It can be simply the two of you reading the same book and talking about what it means to you.
Alert:    Be sure and enjoy the time with your spouse – even if you do not enjoy the activity
Ask your spouse to about their dreams. 
We all get lost in the daily routines of life.  We never have time to get everything done.  We feel the pressure of what we need to do.  How can we have time to dream?   If we plan an evening and encourage our spouse to talk about what they want from life, from our marriage, for the kids – we will show them how much we care about what they want from life.  And we may begin to learn more about who they are – even after many years of marriage.
Surprise Your Spouse.
This can be risky.  It requires that we become a student of our spouse.  It also demonstrates that we can plan and keep a secret!  Depending on what is important to your spouse, it can be a well thought-out gift, or a dinner somewhere, or fixing that pesky dripping faucet she has complained about for years.
Pray for Your Spouse.
When we pray for anyone, our heart begins to change toward that person.  And who can be more important to pray for than our spouse?  As we ask our spouse what is important to them, their concerns, their worries, we begin to view them from God's perspective and the perspective He wants us to have for them.
What a great Christmas present even one or two of these gifts will be!!