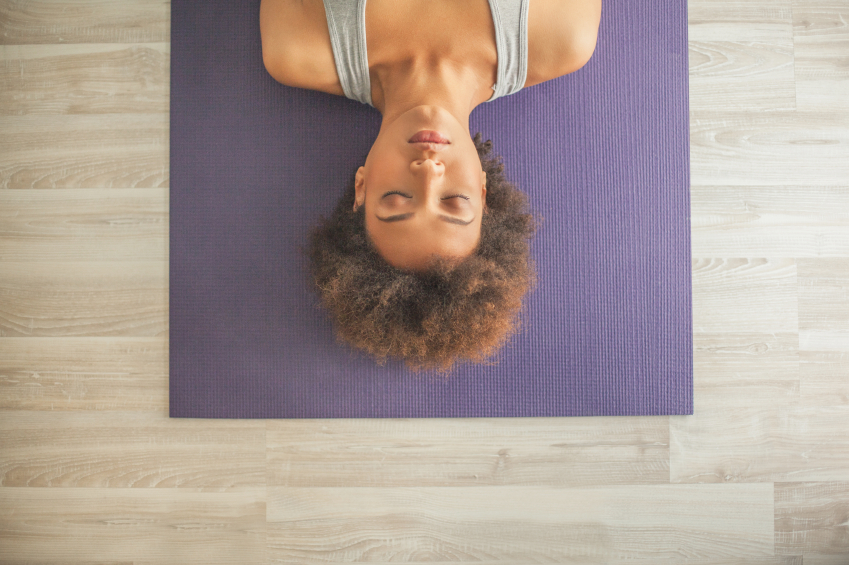 I've grown to really love Yoglates. Mainly because of the class setting that gives me the accountability I need; I can't just leave and quit when I'm over it. Some days, I must admit, I hate it for the very same reason. But whatever I may be feeling that day, what I can't get enough of is the very end of class. After the Pilates and the poses and the stretching is done, we lie down. And we tense up every muscle in our bodies. Making fists with the hands, inching our shoulders down, crinkling our faces. And we hold. Then, we release.
It got me thinking about our own lives. How we so often keep ourselves trapped in the stage of "tense" but never get to the release part. Never choose to breathe out and let go and free ourselves of the bonds we've put ourselves in.
I see it in the bitterness that is harbored after a friend has wronged us. We walk on eggshells around them, making small talk and catching up all the while screaming on the inside, "You've done me wrong."
I see it in the way we interact with the partner of a failed relationship. Walls have been built up and covered in concrete. We can't seem to let go of the hurt and pain that came from the relationship. So we hang onto it and it becomes engrained in us. We become bitter and cold. We never release.
I see it in the way we fail to really embrace accountability. We hold onto baggage and struggles and sin that so easily entangles, and cannot seem to utter what we've done or where we've been. We hold onto those mistakes like they are keeping us afloat, not realizing that they are the very weights slowly taking us under.
Sure, we don't show it. We look and act like we have it all together, we smile the smile that pretends we are fine, we engage in those difficult conversations like there's nothing to it. All the while, inside, we are tense. Tense and could break in a moment. Tense and begging for release.
Why Release is Important
This yoglates exercise is called the Progressive Muscle Relaxation and it's often used as part of stress-release therapy in order to bring relaxation to the body. It's proven to lower blood pressure, improve concentration and mood, lower fatigue, and increase blood flow to major muscles.
The 'release' phase is absolutely vital to reduce anxiety and bring rest and relaxation to the body.
And it makes complete sense. Of course releasing tension in your body will give a sense of relaxation and rest. We know that. But, what about our restless hearts? What about our wondering minds? How is it that we wrestle with these bondages for so long, not embracing the power to release?
In Psalm 32, God sheds light on the concept of release. David declares, "For when I kept silent, my bones wasted away through my groaning all day long. For day and night your hand was heavy upon me; my strength was dried up as by the heat of summer. I acknowledged my sin to you, and I did not cover my iniquity; I said, 'I will confess my transgressions to the Lord,' and you forgave the iniquity of my sin."
The Lord knew that we would try with all of our might to hold onto things, to keep our hurts silent and our sins hidden. Sometimes, the sting of someone hurting us feels way too big to let go. Sometimes, we just can't let go of that unhealthy relationship. Keeping our sin struggles to ourselves definitely sounds easier. But in trying to protect ourselves, we really are only leaving ourselves burdened in the process. Keeping the weight of mistakes and bitterness buried within us dries up all of our strength and leaves us desperately empty.
When we choose to keep silent, we literally waste away. But just as David did, when we acknowledge our sins, we are fully forgiven and fully freed from their iniquity.
Learning to Release
My friends, release is an exercise that isn't always easy. But I'm here to tell you that it's okay to let go. The freedom and rest you will experience is far greater than the pain it takes to share.
Holding onto a grudge will never satisfy you. It is only damaging you, eating at your core while the target of the grudge is merrily on their way. You are only hurting yourself. It is okay to release.
Hanging onto an unhealthy relationship, or the aftermath of one, will never heal you. It will only leave you empty inside, bruised up and beaten and begging to be set free. It is time to let go. It is okay to release.
Choosing to carry the weight of everyone's needs and burdens on your back will never give you the "needed" feeling that you desire. It will only leave us exhausted, drained and with a forever long to-do list. We must learn to say no. We must learn to delegate. It's okay to release.
Finally, hanging onto those unspoken sins and mistakes will never comfort you the way that exposing them will. Instead, we are left dried up, physically and emotionally aching, and simply alone. Exposing those sins will be the most freeing thing you experience. I promise, it's okay to release.
The path of release isn't easy. I don't think it ever will be. But God has promised that in Him, we find full forgiveness. We find full exposure. He already knows all of our sins and all of our struggles. He chooses to forgive us of all of our iniquities. And he has given us the freedom to forgive others, to expose our sins to others, to let go of the walls we've built up. We weren't meant to stay in the tense stage forever. We know that there is absolute power in the release. Now, I pray that we embrace the power to release.