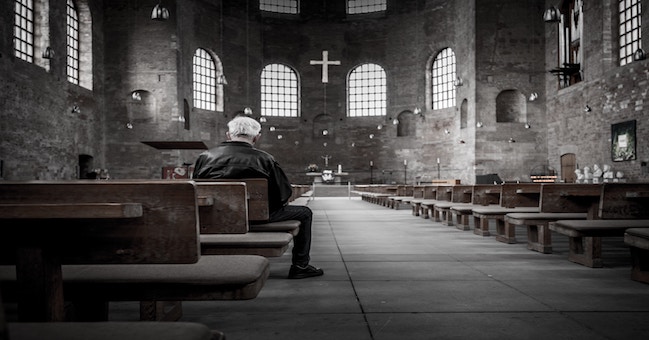 Prayer in church is common.  When I was on staff every Tuesday we would pass around all of the prayer requests gathered from church members on Sunday.  It was our time to pray for our congregation and to specifically lift up their thankfulness for God's work in their life, their cries for help, and the persistent prayers of intercession for others.
There is one prayer request that regularly stood out to me.  It was a man praying for his daughter.  His daughter was a very young single Mom.  The baby's father was across the country and not in the picture.  Every week, week after week, this man prayed for a Godly husband and father for his daughter and granddaughter.
It wasn't an occasional thing.  It was every week….for years.  I don't remember if it was two years or three years until she met her husband, but it was weeks and months and years.  Most people would have given up.  Not really given up that his daughter would find a husband.  But, given up that his prayers made any difference at all.
Persistent Prayers
Most other people would throw in the prayer for a Godly husband and father now and again.  I do that.  I pray regularly for the spouse God has planned for my kids.  But, I admit it isn't every week.
His effort spoke volumes about his faith and his belief in prayer.
He believed in interceding with God for his daughter and granddaughter.
He shared his prayer with other elders and leaders in the church so others would also be praying.
He was steadfast and consistent; if a week was missed, he wasn't at church then.
He always prayed for a Godly man, not just any man, for his girls.
He trusted God's timing.
The thing that is interesting about this story is the journey as well as the outcome.  If you consider the circumstance, the young girl didn't always make wise decisions.  Over the years of prayer I am sure there were suitors that didn't match the prayer for a Godly man to take care of his girls.
I never discussed this prayer over time with this man, although I may have at the beginning.  I imagine his faith was so strong that not only was the prayer a prayer for the Godly man, it was probably a prayer to withstand any suitors that were not believers.  It was a call for strength.  It was a prayer for the fruit of self discipline for the whole family to not let down their standards while they waited on God to work.
I know that the parents wanted their daughter and granddaughter to have a family; but not just any family.  They wanted the person God had planned for their daughter, they trusted that He always has a plan, and they patiently waited and persistently prayed with fervor for what they knew would be God's best.
The daughter did find her Godly suitor.  She did get married.  Her daughter now has three siblings.  They are indeed a family.
I believe in part from the fervent prayers of a Godly father for God's will in his daughter's life.
Do you fully believe God for your prayers?  Can you see the work God was doing throughout this prayer journey, not just with the outcome?  What are the fervent prayers of your heart?
My prayer is to have the faith, persistence, and love that this Father had, and to learn not only to pray consistently and without ceasing for all things, but also to pray persistently until God answers.