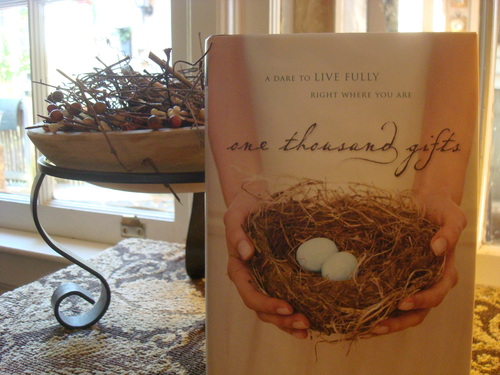 "One Thousand Gifts beckons you to leave the parched ground of pride, fear, and white-knuckle control and abandon yourself to the God who overflows your cup."
This begins the description on the back of this wonderful book by Ann Voskamp. ( a link to her daily blog)
I started reading it two days ago.  After about 20 minutes I had to go find something to highlight with.  Then I needed a pen to write in the margins.
Why?
Ann's book transports me to a different place and a different frame of mind as I read.  She shows us her journey through loss – loss of loved ones and a family who loses faith.  Soon in chapter three she begins to show us the journey of her healing and an expanded view of our God.  For her she just says it was a perspective that was there all along and she almost missed it.
She talks about "eucharisteo" which she says means thanksgiving and she provides many instances where Jesus gave thanks before:
the suffering
the lacking
the journey
and ultimately, her conclusion is that the "miracle" always follows the "thanks".
I haven't finished the book so this is just a preview, but I can say that she has a gift for writing that takes in many cases, ordinary words, and turns them into extraordinary phrases, descriptions and stories.  Her choice of words brings you into her story. You can see the sights, smell the aromas, hear the laughter and tears.  You can even feel the tension as I did when she writes about time:
I don't really want more time; I just want enough time.  Time to breathe deep and time to see real and time to laugh long, tine to give You glory and rest deep and sing joy and just enough time in a day not to feel hounded, pressed, driven, or wild to get it all done – yesterday.
She provides ideas and asks introspective questions:
How long does it take your soul to realize that your life is full?
And she shares the conclusions she is drawing for herself.
To me it is a book of healing.
And a book about thanksgiving.
The thousand gifts represents a dare to her to list 1000 things she loves.  A 1000 things that God has given her.
I started my list in the margins of her book.  I will see if all thousand will fit!  Won't you join me.  You can purchase her book at Amazon here! (affiliate link)