Work, friends, appointments, school, birthdays, significant others, family gatherings, church, grocery shopping.
Just a small portion of the things that you and I use to fill our days and weeks. The 20's are full of new experiences, and with those experiences comes responsibility, and with that responsibility comes busyness.
Often times, that busyness can look a lot like trying to be everything for everybody, without taking time to ourselves. There's a term for that which I think you may have heard tossed around a time or two: codependency. Codependency can take many forms, but one of which is the exasperated sense of responsibility for meeting others' needs, and the incredible load of guilt when we feel like we haven't. It's not healthy; it never was, and it never will be. And no matter how many times I get to the point of learning this lesson, God so graciously reminds me of it again in each season that I'm in.
Something's Gotta Give
I was recently working on a paper and starting the research process when Word wouldn't open. I tried a million different ways to try to open it, yet each one failed. I was pretty flustered. But then I remembered the trick that always seems to work when I have any computer issues: turn the computer off, then turn it back on.
Off.
That's what the computer needed: to turn off, to take a break, to breathe.
How often do you and I turn off, take a break or breathe? I know what you're thinking. There's no time for that. With all of the possible responsibilities, resting is just a foreign concept that doesn't really fit in  'everyday life.' Especially when everyday life revolves primarily around other people's needs. But just like that computer could not function properly until it turned off, I believe that we must take a break every now and then in order to really love others well. In order to be the support system, the encourager, the provider that we want to be for those around us. And here's the kicker- we cannot feel guilty for doing so.
Often times, the 'be all for all' person experiences great guilt when we feel like we are not meeting the needs of those around us. We can feel incompetent when we feel like we have let others down. We worry they cannot function if we are not available. We feel like in order to maintain various relationships we must constantly say yes and never break a commitment.
It's not healthy and it never was.
And so I'm proposing  a guideline, you could say, on how to get back your time. On how to make your 20's count, without making your calendar full. And I want you to try it, and I want to hear how it goes when you do. Because I guarantee your relationships will grow deeper, your impact will grow greater and your attitude will grow brighter when you learn to truly take time to yourself.
Get Back Your Time
1. Use a planner. If you haven't invested in a planner, I believe that is the first step to taking back your time. When you block out things on your calendar, it allows you to know what commitments you have already made, what obligations do not change week to week, and what free time you actually have. It gives you the structure and freedom to really know your week, know what's coming up and know if you are unable to make a future commitment.
2. Schedule time to yourself. I have started to do this, and it's worked wonders. Schedule a time in a week, whether that is a 2 hour block for your favorite book or an early morning walk. Schedule that time out for yourself and do not let anything get in the way of it (unless there is an emergency, of course). Treat it like an appointment with the most sought after specialist that would take months to see again (because let's face it, that's what it feels like). Blocking out a scheduled time of rest may seem counterproductive because it's another thing on your schedule, but really it allows for protected time to yourself without the feeling of guilt or laziness.
3. Say no. Friends, this is so difficult for me. I want to say yes to everybody; I just do. I want to help and I want to be there and I want to know I was there; but I can't be, and neither can you. We must learn to say no. I think you know where in your life you need to learn to say no when you really stop and think. Maybe it's a certain person that you just hate to disappoint, maybe it's a regular event that you are always asked to volunteer for, maybe it's a favor that a family member has asked for over and over. If you are consistently saying 'yes,' you are saying 'no' to rest. Really stop and evaluate your motives behind always wanting to say yes. Are you a people-pleaser? Are you afraid of feeling less valued or needed if you say no? Work through those motives and get to the bottom of it. It is okay, and actually really quite freeing, to say no.
4. Change your perspective. This one is vitally important, yet often the last thing we think to do. Often, when I am busy, I want to complain, I want to tell people how busy I am, or I want to cancel on everything. This one requires less of a behavioral change, and more of a mindset change. Sometimes, in the midst of busy life and people's needs, we forget how blessed we are to have those very responsibilities and relationships around us. We may complain about running around after our kids and think it is harmless; but what if our attitude everyday reflected the joy that comes from being able to have and raise a child? We may be boggled down with people's expectations with us at work, but so often there are people all around us who would do anything for a solid job. In seasons where we may not really have much breathing room, a perspective change could drastically change the way we live.
5. Give yourself grace. And give yourself some more grace. I cannot stress this enough. You are fully forgiven and fully loved. You have to give yourself the same grace that Christ has already offered you. You do not need to carry around the weight of everyone's needs all of the time. They will manage without you, they will survive. And remember, guilt is not a feeling from the Lord and never will be. It is a lie the devil uses to try to make us miss the character of Christ. Do not give into that lie; instead, allow yourself the freedom to walk without guilt. Taking the weight of guilt off of your shoulders will automatically eliminate some of the stress and hardship you experience in busy seasons. Grace upon grace.
And so I leave you with a couple of question:
Are you trying, each and every day, to be everything for everybody?
Do you feel guilty when you fail at this?
Do you wonder why you are always burnt out?
Are your relationships feeling more like a chore than a blessing?
If so, it is time, my friend, to turn off, to take a break and to breathe. It is time to abandon the constant rat-race of busyness and other people's expectations of your time. It is time to give yourself grace. Your relationships, your family, even your responsibilities will thrive when you learn to take time for yourself. I dare you to try it and see.
________________________________________________________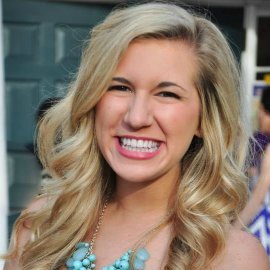 Haley DePrato is a marketing coordinator at Crossroads Professional Counseling. She is finishing her undergraduate degree in Child and Family Studies at Louisiana State University, with hopes of getting her MA in Marriage and Family Therapy. As a 20-something herself, Haley is passionate about tips on tackling this evolving life stage.