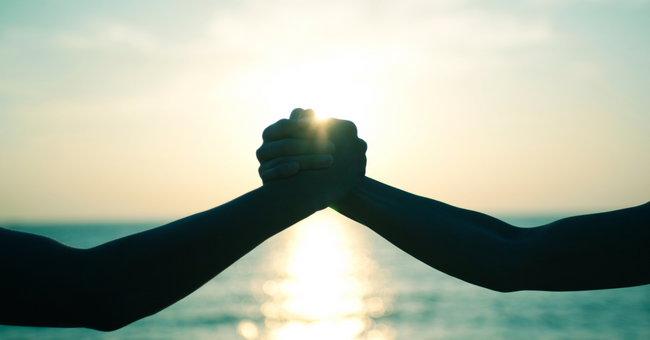 I was chatting with my daughter just the other day and with great authority and conviction she said, "I need someone to go with me, because, uh, you know, I'm so codependent!" I smiled. Preferring to be in the company of others isn't codependent. Neither is it codependent when partners or friends lean on one another. Some therapists don't even like the term codependent because it seems to have become a mushy catch-all phrase that describes a plethora of unhealthy behaviors. So let me be so bold as to offer a definition.
Defining Ourselves Through Others
Codependency is a constellation of thoughts, emotions, and behaviors that profoundly affect the way the codependent person relates to others. People who are codependent define themselves and gain or lose their self-esteem based on the reaction and behavior of people they are in relationship with. This, in turn, leaves them vulnerable to being controlled by others.
Codependent people will often sacrifice their own wants, needs, feeling, and ideas to make others happy. Typical behaviors include a need to rescue, please, or fix other people. As a result, codependent people can be very controlling, but often with seemingly great motives and in the nicest way!
Trouble Setting Boundaries
These folks have trouble setting boundaries with themselves and others. They have trouble saying no. They often feel guilty and responsible for others which leads to a lot of compulsive behavior. They have trouble being realistic and seeing what seems to be plain to everyone else. Guilt, resentment, anxiety, depression, feeling hurt, alone, misunderstood and burnt out is all part of the codependent individual's emotional landscape.
A Warped View of God
Codependency has spiritual implications as well. Instead of having an authentic, open relationship with God, codependent people can often slip into a works-based faith, trying desperately to earn love and acceptance, rather than accepting what is freely offered. Many codependent tendencies start in our youth. How we saw our parents is often how we see God. Is he loving and approachable? Or does it seem his love is conditional?
Looking for Love in the Wrong Places
What motivates someone with codependent traits? They want what we all desire- love, acceptance, and affirmation. The problem isn't wanting love and acceptance. The problem is that the method used to find them is severely flawed and a recipe for disaster. Here is an excerpt from my article, Rethinking Selfless Love, which describes what I am talking about.
At first the accolades rolled in and I felt affirmed. But as time went on I was often overwhelmed, exhausted, and feeling guilty that I couldn't handle the life I had created for myself! Eventually the encouragement and gratitude I received for my hard work were replaced by entitlement and indifference. Life began a quiet descent into resentment, disillusion, and depression. This wasn't the life I wanted!
Service, and attending to the needs of others, isn't wrong. Scripture seems to encourage us to sacrificial service. But I'm talking about out-of-control caretaking. It is the kind of service that is driven by compulsion and obligation, the kind that leaves us feeling worn out and beat up and so out of touch with ourselves that we don't even know who we are anymore. We see a need-often, but not always, a legitimate need, and we feel obliged to fix it. "If not us, who?" We feel compelled to make things right so we plead, nag, scold, advise, or put in hours of labor, neglecting our own needs. We resent the fact that we have to fix everything for everyone but what can we do? It's up to us! Then we get angry. Why do people have to be so demanding, so incompetent? Then we are hurt. Could they at least be thankful for all I do for them? Sometimes depression sets in when the love and approval we thought we would earn for all our efforts eludes us.
Working Harder Isn't the Answer!
Do you relate to any of this? It isn't always easy to recognize this in yourself. So many features of codependent behavior seem positive at first. What's wrong with taking care of others? What's wrong with being such a nice person?  Or a super-conscientious parent? Or an ever-giving partner? The problem is that working harder to be better, nicer, or more to win the love and approval you long for is a trap. Eventually you begin to feel like a hamster on a wheel, working hard, but going nowhere. This approach won't get you what you want.
Understanding how you got where you are today and how to head in a different direction can change your life!  Recovery is a process, not something that can be accomplished overnight. I'm not sure it isn't more accurate to talk about managing codependency as opposed to curing it. In any case, key parts of recovery include understanding what circumstances and people have shaped you, where codependent behavior and distorted thinking are affecting you today, and learning skills to approach relationships in a healthier way. Reading more about codependency can be very helpful but often people change and grow in the context of supportive relationships. Finding others to support you –friends, family, a therapist-can be invaluable as you journey towards a healthier approach to life and relationships.
_________________________________________________
  I am a Licensed Professional Counselor,  a National Certified Counselor (NCC), and a registered nurse. I have  counseled many- individually and in groups- who struggle with codependency.