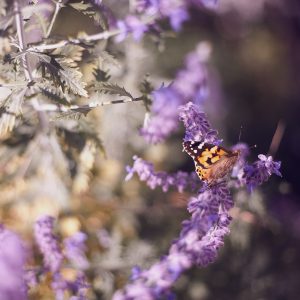 A few weeks ago, I had the idea of getting my kids a butterfly kit to experience the wonder of transformation. My little two-year-old is totally obsessed with insects right now so I knew it would light him up and I couldn't wait to see his reaction.
I went to Amazon and a few clicks later a package of little caterpillars was on its way to my door step. When the package arrived, we read a sticker on the front labeled "LIVE INSECTS – OPEN IMMEDIATELY," and the adventure began.
We took out a small cup of little caterpillars that contained their food and admired them while carefully handling them. We read the instructions, followed the directions, and couldn't believe how simple the process was! The caterpillars grew, and right when the instructions said they would make cocoons, they did. All 5 of them, right on schedule!
As they hung in that position for several more days, we intently watched for any signs of life. We trusted that inside of those tiny structures, magic was happening and cells were being reconstructed, reorganized, and rearranged to create something entirely new and beautiful.
The excitement and anticipation of seeing the butterflies grew until I realized that we would be traveling to visit family the days that they were on schedule to emerge – perfect timing, right? I was invested at this point, so on the day we left town I brought them with me to work so that they could hit the road with us after work on our trip.
To my amazement, two of the five butterflies quickly emerged as I was sitting at my desk. It happened so fast! The cocoons jiggled a couple of times and out they came. But the remaining 3 really gave my heart a roller coaster ride. After watching one of them jiggle and struggle for hours, I was sure it would give out of energy and die in the cocoon. And the other 2 had no signs of life at all. 3 of our 5 cocoons had become butterfly tombs. Sigh.
Hope Deferred Makes the Heart Grow Sick
Something about those cocoons brought out a reality in my own life. When we hope for something for a long time, and hope keeps getting deferred time and time again, we can grow sick at heart. It can feel like death inside, like we're going to die right there in the cocoon before we ever see what we're hoping for.
Maybe you're hoping for a spouse, a child, a life dream, healing, or any other miracle. When we hope day after day and work hard to "keep our hopes up" by trusting Jesus for an extended amount of time, we can eventually experience what I call a "hope crash."
A crash can happen when the disappointment that taps you on the shoulder every once in a while finally makes you turn around, demands all of your attention, and then pulls you into despair. At least that's what it's felt like to me. When I crash I know I'm no longer thinking rationally and I'm only seeing the glass half empty. I used to spend days and weeks lingering in this place, but now I just spend a couple of minutes and head on my way.
The way out is to remember, by God's grace, why you had hope in the first place. Hope is a person and His name is Jesus. So when my hope has crashed I realize I just need to get back around Hope again and sing my heart back into alignment with Him.
Trust the Process
To finish the butterfly story, yes they all made it. Of the remaining 3 butterflies, 1 emerged overnight, and then the other 2 emerged while we were road-tripping in the car. When I went to check on them, I was so overcome with joy that all five of my little butterflies made it!
The process worked. THE PROCESS WORKED!
It made me believe that this whole butterfly thing was more than just a fun science project for my kids. I needed to see this because I needed to trust the process in my own life.
The Struggle is Good for You
A butterfly's wings are strengthened at the stage when they're fighting to get out of the cocoon. They're being prepared for flight in the struggle.
To avoid the struggle would be to avoid their ability to fulfill their purpose.
Sometimes hoping for something involves a little pain, a little struggle, a little wrestling in the middle of the night. Sometimes hoping hurts.
How many of us are hating the very thing that is preparing us for what's next? (ME!)
For most of us, it's time. It doesn't feel like it's on your side when you're waiting and hoping. Time is quite the teacher.
The struggle is part of the process. Trust the process. The struggle of this season won't even compare to the joy that is coming.