In our last post, we saw that finances can have significant underlying meanings to each individual. We saw that we are humans, with various needs and longings, that often manifest themselves in the way we spend our money.
That information is important. But what do we do with it?
Communication is Key
I truly believe that open communication and greater awareness of finances within the home can have a significant impact on the well-being of marriages, families and each individual within the family.
Let's take a scenario:
Jim meets Amy, falls in love, and marries her. Jim came from a home where he and his two siblings helped support the family financially. They did not take family vacations, they worked hard to put food on the table and they knew the importance of saving. Then there's Amy. Unlike Jim, she never worked a day in her life until she got a part-time job at the end of college. Her father was very private about his finances and she never felt there was an invitation to discuss money with him. She wished she had more knowledge about money, but ultimately she rested in the fact that he always met her needs and wants.
What do you think would happen to the two of them if they never discussed financial expectations and began their marriage thinking they were on the same page about money? I think we both know. They would quickly see that their expectations were not being met. And how could they be met?
Expectation without communication always breeds disappointment.
This example is extreme; however, no two individuals are alike. Marriage consists of two different people, with different backgrounds, different families and different expectations coming together and becoming one.
The only way to be on the same page is to communicate. I believe that all couples (ideally before they get married) would benefit from discussing the way that their families handled money and their expectations for how they want to handle money in their own family. This allows for the practice of open communication, clear expectations, same-page mentality and ultimately working together toward a common goal. It allows both the husband and wife to understand where the other one is coming from and the meaning he or she places on certain financial difficulties or spending habits.
And why let that communication stop with just the husband and wife? Each family is different, and adults should use discretion when discussing finances with their children. However, I think there is great gain from including your children in financial discussions. How else will they be able to learn what it looks like to save, the importance of a budget and what a mutual fund is? There are many people whose parents never discussed finances with them and they entered college and then the adult world completely unaware of what it looked like to handle their personal finances. I believe that education of finances should begin first and foremost within the home. Let it be a bonding moment, a fun learning experience and growing opportunity for your children as they begin to understand personal finances from you!
Taking Practical Steps
In order to create change and facilitate growth, we must take practical steps in anything we do and finances are no different. For us, those steps start with a working budget. Using a budget helps you to establish some ground rules. First, it allows you to see how much income you have to work with on paper (or computer screen these days!). Next, it allows you to see where you want that income to go. What are your priorities? What are the needs that must be met? What is a healthy amount to save – and towards what are you saving? These, and so many more, are questions that are answered within a budget.
Beyond a budget, financial planning is also a key tool you can use to cast vision with your family's finances. It is the process of developing a set of financial plans, or goals, in order to help you and your family work towards financial success. If this seems overwhelming to do yourselves, you can hire a financial planner to assist you in creating practical goals for your family's resources. There are three fundamentals of financial planning that I believe anyone could do from home: set specific goals, visually prioritize those goals and have target dates to meet those goals.
Both of these tools will drastically change the way that you and your family handle finances.
Summing It Up
We've looked at many aspects of finances and the family, and here are the three encouragements I have for you:
1. Dig into the root of your financial habits. Do you find it difficult to muster up the self-control to stop spending? Is your inability to provide for your family leaving you feeling powerless? How are finances affecting you; and in turn, how are those financial struggles affecting your marriage and family?
2. Establish open communication between you and your family concerning finance. Do you often feel like you are on different pages with your wife on how to allocate your finances? Have you kept your financial knowledge to yourself instead of passing it to your children? Is it hard for you to communicate changes that need to happen?
3. Take practical steps. It's never too late, or too early, to establish a working budget for you or for your family. Whether you are working a part-time job in college or supporting a family of three, it is important to create visible guidelines for your resources. Utilize the idea of financial planning in order to create both short and long-term goals for you and your family. These tools will help you stay on track with your finances and avoid unnecessary strain later on.
Financial strain is one of the leading causes of divorce in America today. It can have the power to produce stress, anxiety and depression in an individual and even drive apart a family. That is why it is such an important topic to me and one that I think we often overlook when it comes to building up families. But I believe that the more we understand, discuss and steward our finances, the more we can change these outcomes. Join me in doing so; start with your family.
_________________________________________________________________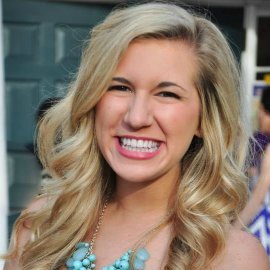 Haley DePrato is a marketing coordinator at Crossroads Professional Counseling. She is finishing her undergraduate degree at Louisiana State University with a major in Child and Family Studies and a minor in Business Administration. Upon graduation, she hopes to pursue Marriage and Family Therapy and specialize in financial counseling.