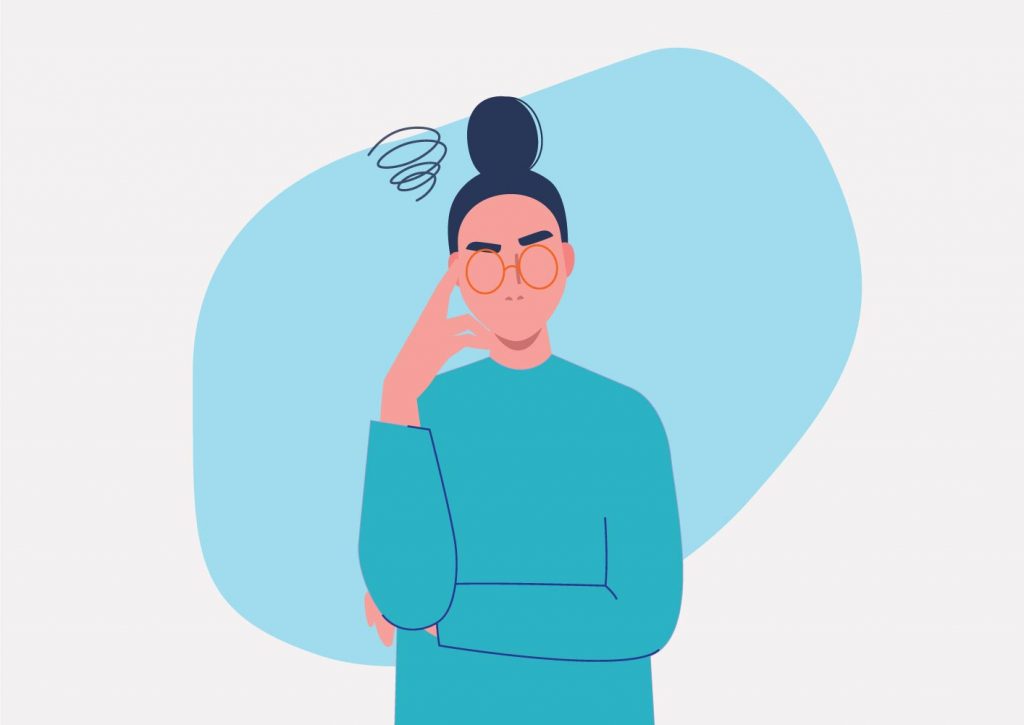 Almost everyone who comes through my office hears me say "A belief is just a belief, a thought is just a thought, an emotion is just an emotion. Just because I believe something does not make it true. Just because I think something does not make it true. Just because I feel something does not make it a true reflection of reality." Why is this so important? It is important because we humans have the ability to delude ourselves.
A Slippery Slope
It is an interesting experience to work in a psychiatric hospital with people who are psychotic and have lost their ability to test reality. They might really believe, for example, that the CIA is stealing their thoughts or the person on TV is sending them secret messages and so on. No amount of reasoning will convince them otherwise because they KNOW that they are right. Their only point of reference is what is in their head. If they believe they are being controlled or pursued, they also assume the fear they feel proves they are really in danger. It is heartbreaking to watch, and a joy to see them get better as they receive treatment.
We assume WE will never untether from reality, but here is the thing: healthy, neurotic, borderline, and psychotic are all on the same continuum. Think of healthy on one end and psychotic on the other end:
HEALTHY<————>-NEUROTIC<————->BORDERLINE<—————->PSYCHOTIC
While a portion of the population is psychologically healthy, many of us are neurotic, meaning we are prone to depressive, anxious, and sometimes irrational thoughts and emotions. Sometimes those thoughts and emotions get a little extreme.  Think of the last really heated argument you had. Did you find that when you slept on it and calmed down, the next morning you could not even understand why you were so hot the night before! The culprit? Beliefs drive our thoughts, leading to strong emotions which erupt into behavior we often regret.
Testing Reality
It is humbling to realize we can find our grip on reality loosening, even if we are not psychotic! If we do not ground our beliefs and thoughts in tested reality and facts, we are vulnerable to drawing faulty conclusions. We are also vulnerable to emotional manipulation, when fear or guilt or a sense of urgency or obligation drive us to make emotional, kneejerk decisions. When we are driven by emotions, unmoored from reason and facts, we are in an emotional storm which is primarily in the limbic portion (fight, flight, or freeze) of our brains. We need to calm down to access the prefrontal cortex, the part of our brain that helps us process incoming information and make healthy, well-reasoned decisions.
Distorted Thinking
Our emotions are directly influenced by our self-talk. So, what am I telling myself? And what is the proof that what I am telling myself is true? Here are a few examples of irrational thoughts that commonly trip us up:
Mind-reading: "I just know he meant to/intends to…. and I am furious/terrified!" When I evaluate my own behavior, I am aware of the (conscious) internal and external context of my behavior, though I am not always aware of my subconscious bias. We all have blind spots if something is too close to us. We often do not see ourselves clearly. Nonetheless, I judge my behavior based on the known context of my decisions. When I evaluate another's behavior, I cannot know his/ her motives or the internal/external context of his/ her behavior. I judge this person solely based on his behavior. Maybe I am missing important data that would change my view of the situation. We need to ask, not assume.
All-or-nothing thinking/overgeneralization: This is a BIG problem in our polarized culture. People are either patriots or they hate our country. People are either good if they agree with me, or bad if they do not. Democrats always …, Republicans never…. All white/black people …, and so on. Prejudice at its core is overgeneralization.
Overgeneralizations are inherently dishonest because they distort the truth and inflame anger, paranoia, and self-righteousness. Try softening the language and being scrupulously honest. Instead of always/never, use words like often, frequently, seldom, rarely and see how it changes the way you feel and your willingness to consider another point-of-view. The truth is often both/and, rather than either/or.
Catastrophizing: Exaggerating or blowing things out of proportion is a problem because it plays with the truth, ratchets up our negative emotions, and makes problem-solving that much harder. Calm down, take a breath, and ask yourself if your reaction is proportional to the problem. Is there another way to look at the situation?
Shoulds: She should do this…he shouldn't do that!! Says who?! "Shoulds" are a problem because they are opinions dressed up as moral principles. If I slather a bunch of "shoulds" on you, I will be full of self-righteous indignation, and not open to hearing another perspective. Exercise humility. Soften the language. "I would prefer it…, I think it would be better if…"
Principles to Live By
Look for external validation or data. Do not mistake your opinions or feelings about something for facts.
Make generous assumptions. You may not know the whole story, and you would want others to make generous assumptions about you.
Seek to understand before you seek to be understood. Stephen Covey listed this as one of the seven habits that make people effective.
Be scrupulously accurate and honest in your communication. Integrity matters. In a world where so much is out of our control, we still have influence. Seek to exercise that influence with honor and dignity.
Look for the fruit. The consequences of healthy discernment and actions are usually positive. Do our thinking and subsequent choices result in good things?
When you are wrong, graciously admit it. Rather than being weak, owning our mistakes shows strength of character. Most of us will get plenty of opportunities to practice this!
Lead with love. Love can be tender or tough, but it is always fair-minded. We live in a culture that is losing civility and common courtesy. Treat others the way you would want to be treated.