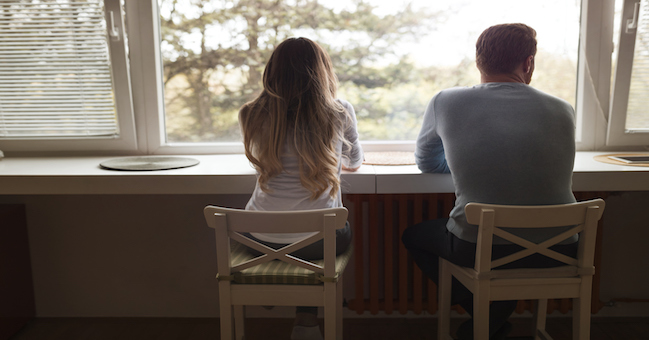 "I don't know how it happens! We find ourselves yelling at each other – and we can't even remember what started it!"
"We seem to be arguing more and more."  
"If we could only communicate better. That's all we need. Then maybe we wouldn't be angry at each other all the time."
Do any of these statements sound familiar to you?
Most of us can feel it coming on. Perhaps we say that we are annoyed, or upset, or irritated. These are simply words that sound better than angry or mad. But they are leading us up the ladder that results in some type of conflict with our spouse. Perhaps "conflict" is not even intense enough to describe the types of words we find ourselves using.
There is a "secret message" that our anger is trying to reveal to us and if we can decode the message, we can begin to solve what many of us call "poor communication" in our marriages.
Anger is where we end up, But NOT where we actually start!
Anger is NOT the "real" emotion. It feels like it. And the anger is real, but it is not where we start.  Sometimes it happens so quickly that we don't have time to figure out what triggers it.
"What? Of course I am angry! What do you mean? I am feeling it right now when you tell me it is not the real emotion!"
Please consider the following statement that research has confirmed is true: Almost all anger is a "secondary emotion."
What this means is that although we think that what our spouse is saying or doing is causing us to get angry, there is almost always a subtle, but underlying emotion that is in reality triggering the anger. And it is this secret message that we need to unlock.
Unlocking the Secret Message
If we can unlock this secret message, it helps us understand why we are so angry. These "primary emotions" or "soul words" describe the feelings that trigger our anger. But for a number of valid reasons, we ignore them. Sometimes it is by choice – but often we are not even aware of what is happening to us.
Remember for a moment the last time you and your spouse were so angry at each other that you said words that you regretted later. Or perhaps one or both of you were so angry that you did not speak for two or three hours (or days, or maybe even weeks?)
Often you remember the feeling of anger, but not what started it.
You are convinced that it was something in the conversation or the action of your spouse that "caused" you to react in anger. And the same is probably also true for your spouse.
Here is the secret message that we never are able to hear: a much more important emotion is what impacts us first.
The "Normal" Pattern
Here is an example that you might have experienced:
A husband forgets his anniversary (probably something that has never happened!)
The wife expected this, since she had decided not to remind him in order to see if he would remember on his own. She reacts in anger and say, "I knew you would forget.  I am so tired of you not remembering." She continues as she reminds him of other times when he forgot, or simply picked up something at the last minute from CVS on his way home. Her voice is shrill, high-pitched, and she describes him in terms that are, at best, not complementary.
So how does the husband respond?  He reminds her of how hard he works.  He goes on to describe how bad a day it was and how he didn't even have time to think about it.
On and on they go.  The accusations become more and more intense. Finally he simply shuts down and walks away —  while she is still talking. Which drives her anger to an even higher level.
So what really happened here? Their pattern is so entrenched that sometimes simply a look from the other triggers this "dance" (or battle) of words.  In fact, this happens so often that they could probably simply record it one time, and then play it over whenever they need to. Think about how much of their time it would save?
What are these secret messages that the couple so desperately wants to send to each other – but they may not even be aware of it themselves?
The Secret Messages Hidden by Anger
For the wife: sure she is angry. But on a deeper level she feels hurt, isolated, lonely, and probably overlooked, disregarded and unimportant.
Chances are that her husband would become sad, perhaps even grieved, if he knew this. But all he understands is her anger. So he reacts.
For the husband: he reacts in anger. He can come up with ten reasons that he is justified in forgetting their anniversary.  And he does. But on a deeper level, he feels unappreciated, overlooked, and unwanted (how about misunderstood or like a failure?) This would make her sad as well, but all she sees is that he has shut down again. And has no interest in talking to her.
And the cycle goes on and on and on.
Where to Start?
So how does the couple begin to decode their own "soul words" that are triggering the anger, and then communicate this to their spouse in a way that invites them in, rather than block intimacy?
This process may seem simple, but it is never easy. Changing a cycle or pattern is always difficult. And we are not sure if we can trust that the other person is going to respond in a way that feels safe.
This is a great example of how spending time with a counselor can help. The couple wants to connect. Their anger is a misguided cry for "I want you.  I miss you. I miss us." A counselor can provide a roadmap to help the couple decode.
They need to supply the "want to." Is their marriage relationship important enough to work on it in a completely new way? Or would they prefer to continue pushing each other apart, caught in the pattern of anger and shutdown.
Once the couple agrees that what they are doing doesn't work – and that they desperately want their marriage to not only last a lifetime —  but to grow in intimacy and closeness,  they are ready to begin the journey.