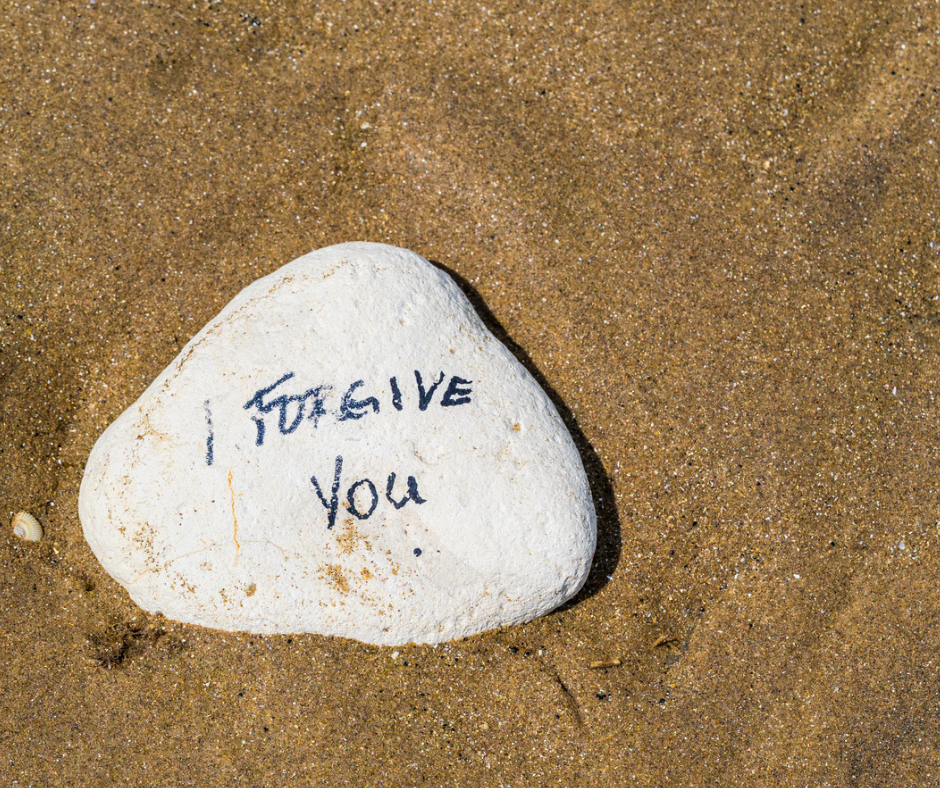 Husbands: Can You Relate?
One of my goals as a husband is to lead my wife well. But this includes the responsibilities of protecting her, loving her in a way that is meaningful to her, and seeking to resolve the stresses and conflicts in our marriage in a way that honors her and honors God.
But so often, I fall short. It seems that without trying, I say or do something that makes her feel unloved (at best) or really pushes her "raw spot" button (at worst). You husbands know what I mean: The button that we trigger without even being aware of what we have done (or haven't done).
This is not our intent, and it often doesn't make sense to us, but we still experience the distance and separation from our wives when this happens.
The Biblical Commands:
Many of the Biblical commands regarding forgiveness are focused on the forgiving part.
"Bear with each other and forgive one another, if any of you has as grievance against someone. Forgive as the LORD forgave you." (Col 3:13)
And even more convicting: Peter came to Jesus and asked, "LORD, how many times shall I forgive my brother or sister who sins against me? Up to seven times?" Jesus answered, "I tell you, not seven times, but seventy-seven times." (Matt 18:21-22)
But what about seeking forgiveness?
The Bible teaches us that when we have wronged anyone (especially our wives), we are to seek forgiveness:
"Therefore, if you are presenting your offering at the altar, and there remember that your brother has something against you, leave your offering and go; first be reconciled to your brother, and then come and present your offering" (Matthew 5:23, 24)
And often we tell I wives that we are sorry, but it doesn't seem to work. What are we doing wrong?
We need to ask ourselves this question first: What is my goal? Do I simply want to feel better — or just want my wife to stop talking to me this way – or to stop giving me the silent treatment, or . . .
Do I really want to reconcile with my wife? To reconnect with her in a way that we are again experiencing the closeness that we both long for?
What NOT to Say
First, here are some examples of what NOT to say when we are seeking forgiveness – and each one is tied into our motivation:
Thought Option #1: I am tired of talking about this, and I just want to move on!
What we actually say is: "Sorry about that . . . ." and then change the subject.
Thought Option #2: We've been arguing about this for two days, and I am REALLY tired of talking (listening) about this. I REALLY want to move on!"
What we actually say is: "I've already told you I'm sorry. What more can I say?"
Thought Option #3: I don't understand what she is so upset about.
What we actually say is: "That was no big deal. Sorry that I did that."
Thought Option #4: I can't even remember what I did wrong this time.
What we actually say is: "I promise I'll never do/say that again."
Thought Option #5: I am so sorry that I "pushed your button."
What we actually say is: "That was not my intent. You misunderstood what I meant."
Thought Option #6: I wish this was over!
The worst thing that we can say is: "How much longer are you going to be like this" . . . or . . . "Are you going to be mad at me all night?"
We Cannot Convince our Wives NOT to be Upset.
Truth #1:
There is no way to convince our wives that they should not be angry or irritated with us. It just doesn't work.
Any form of reasoning falls short.
"That's not what I meant" doesn't work.
"Let me explain . . ." doesn't work.
"You misunderstood. What I meant to say was . . ." doesn't work.
"You are way over-reacting. This is not that big a deal" doesn't work.

So what is Missing? Why won't she forgive me?
Truth #2:
We cannot use reasoning or an intellectual argument to resolve an emotional issue.
What in the world does this even mean?
We know what emotions she is experiencing: Irritation and anger!
But in reality, there are softer, more vulnerable emotions that she is also experiencing. Emotions that we need to acknowledge and experience with her.
This is tough to take in. In most cases, helping her uncover these softer, more vulnerable emotions takes a bit of detective work. See the blog "How to De-Code Anger's Secret Message":
https://crossroadcounselor.com/marriage-couples/angers-secret-message/
In most cases, a "soul word" describes that she feels hurt, or feels forgotten, or overlooked.  Take a look at this list of "soul words" that many couples (both husbands and wives) find helpful.  https://relationship180.com/wp-content/uploads/2021/09/Soul-Words.pdf
What she longs for is not just an apology, but for us to care about how she feels – even if it does not make sense to us.
As men, we are wired differently. Something that we say or do (or not say or do) would not matter if someone treated us the same way.
But what we say or do does matter to her. She wants . . . she needs . . . what is called "empathy." What a strange word! It means to feel with someone. Which is difficult when we don't feel it ourselves.
Often our best bet is to feel sorrow for what she has experienced – especially when we have caused it.
What she needs most is for us to care how she feels. This is not exactly in most husbands' wheelhouse.
How? We need to not only accept the hurt or her sense of being overlooked or forgotten that she is experiencing – but also accept the depth of the hurt.
And not only to accept the depth of the hurt, but also that we have caused the hurt – even if the hurt does not make sense to us.
Note that none of these responses involve a detailed discussion of what happened, an explanation of "our side of the story," or a justification of what we did.
Heart-felt sorrow and empathy are what she needs. We are then ready to seek forgiveness – not before.
Our goal is not just to follow the Biblical commands, but to reconnect, re-establish intimacy, and to care for our wives well.