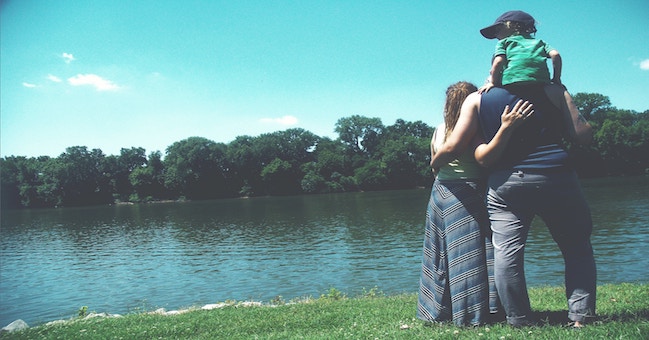 In marriage there is often a crossover… a passage. It isn't planned or desired. Somehow, at some time, we forget we are on the same side.
Two Become One
Didn't we promise til death do we part? Doesn't God declare that two become one?
When you get married you love your spouse so much that you would give them anything, do anything for them. When you have a problem, the first person you used to call to help you figure it out was your spouse.  The one who loves you more than anyone else in the world, right?
If your spouse is having problems at work, you hurt for them and want them to know that you are on their side. You have their back. And yes, even if you are tired, you will stay up and let them process with you so the meeting with the boss tomorrow goes well.
The thing is, it used to be two-sided. The same way you felt about your spouse, they felt about you. So instead of focusing on your needs, your boundaries, you were free to love and give selflessly. After all, they were loving you and giving selflessly, so both of you are fully cared for. The equation worked.
Then the crossover occurs…
Divide and Conquer
One of you got preoccupied and dropped the ball on equal loving and giving. It made sense at the time. One of you had more work pressure and responsibility. The kids started absorbing your time. Bills had to get paid. Responsibility kicked in and the only way to keep up was to divide and conquer.
Two becoming one isn't as efficient…
Let's split up the chores and divide the worry.
Let's focus our time and energy on trying to make sure we are carrying our part of the load. I can't worry about you, I want to make sure I am doing my part on my assigned areas. I have to focus on that.
Things that would be fun in the past… like cooking dinner together… making family decisions as a couple…those absorbed both of your time so it had to stop. There is too much to do and care about to both do everything together.
A New Tainted Perspective
The other side of the crossover looks vastly different….
While I am cooking for everyone I hear laughter and playing in the other room. Yes, he needs to spend time with the kids too, but it seems I am getting the short end of this straw.
The kids need new uniforms and there is a homecoming sweatshirt. Another $250 comes across the bank account. All everyone else does is spend money. No one else is worried about where the money is going to come from. It would be nice to just go buy stuff without a thought or concern.
Resentment seeps in….
And the funny thing is that it attacks both people. They no longer see things from the other view point.  They are seeing things from their own perspective and it is looking more unfair by the day.
Satan's Playground: Marriage Conflicts
Satan loves this part. He whispers in one ear… it isn't fair… she hangs out with the kids all day and dinner is still not on the table when you get home. She doesn't care that you are working 10 hour days to support them.
And then Satan jumps to her shoulder… he get's to go out to nice lunches everyday, have adult conversation, and is stimulated mentally and emotionally. I am giving all day every day to getting the kids to school, to their track meets, soccer games, doctor appointments… hugging away tears and bandaging scraped knees. And then he comes home and expects dinner waiting for him and for me to be like the waitress at his lunches… is there anything else I can get for you?
And it happens whether both people work or not, whether you have kids or not, whether your finances are strong or not.
There is always something that causes us to begin to look out for ourselves and once the crossover occurs the symptoms kick in… it is poor communication, conflict avoidance, pride, etc.
One Person Has To Take The First Step
One of us has to stop the insanity…
It would be great if one day both people would wake up and supernaturally become the giving, selfless, demonstrative person they were when they got married. But that doesn't usually happen without intervention i.e. counseling of some sort.
But each of you have thought about it before.
And you have probably tried to change back yourself. But it was only a short trial. I was so wonderful for two days and they didn't even notice. Why bother? (Again, Satan will reinforce this message for you.)
Not Even God Said Marriage Is Easy
The Bible says there will be trials in this world. It says that life here is unfair. It certainly doesn't exclude marriage. Just read Hosea.
But just like the rest of the trials of this world, we need to seek God in our marriage. We need to ask Him how to get back to the two become one that He intended for our marriage. We need to do the things we can do ourselves that would most benefit our marriage and pray to Jesus to help us sustain it. That our perseverance honors God first. That our obedience to His plan and His Word will get us there quicker than our own strength.
It is hard because it relies on the other person doing their part too at some point.
Hopefully, that happens as a result of seeing your effort and perseverance.
As a counselor, I find that almost always both people in a marriage want the same thing. They want to be on the same team. They want support and they want to help. They are each just tired and worn down.
The world can be hard. It is even harder when you are facing it alone.
You Never Have To Be Alone
We are never really alone though. God is always there and if we turn to Him, He is waiting to walk with us, guide us, and strengthen us.
And believe it or not, your spouse is probably still there too. Time, responsibilities, misunderstandings, assumptions, have all created walls and distance.
Take the first step. Reach out to them. Share your heart and your dreams. Tell them…
…I am on your side.