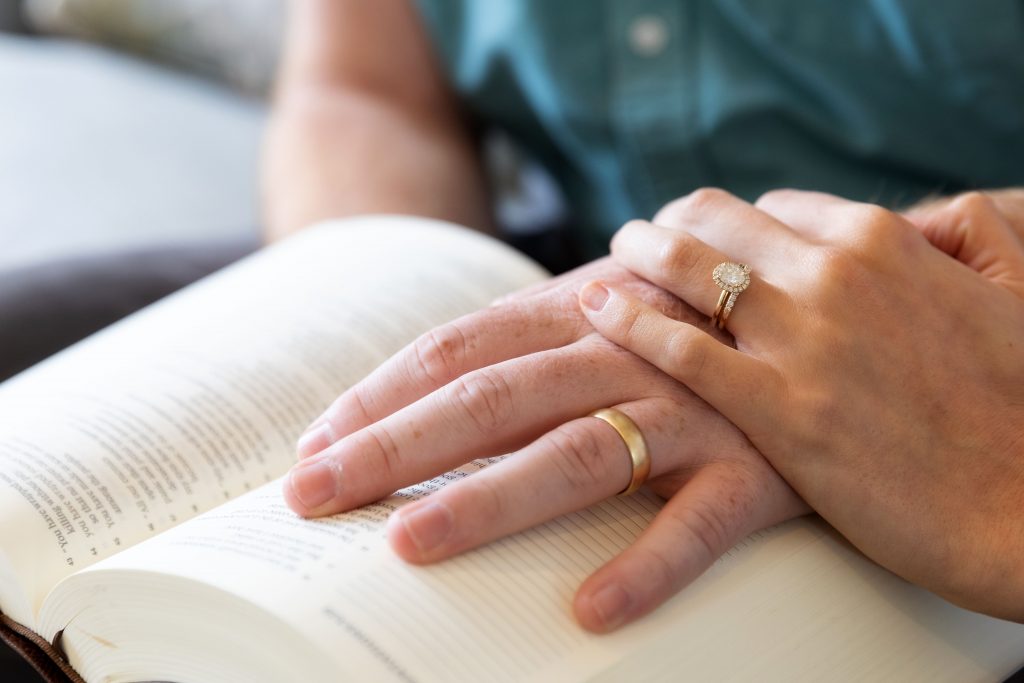 The Pattern: Argument Amnesia
Ask yourself this question:  How often do my spouse and I argue about something, and then the next day I can't remember what triggered the argument?
I certainly remember the tension and the anger or distance I felt, but I can't remember why we began to argue.
And whenever we try and reconcile or "make up," it often makes things worse. 
I want to feel close to my spouse again, but whenever I try, that old pattern seems to take over.
Sound familiar?
Our Brains are Different!  
One basic reason why it is often difficult for husbands and wives to "make up" is that they approach reconciliation so differently.  Some reasons are certainly cultural, but many have to do with our differences as men and women
Now that MRI's have allowed the medical community to actually observe what happens in the brain, they have "discovered" that men's and women's brains are different and react to outside influences in different ways. (Surprise!).
For a woman, the different areas of her brain are interconnected. When something happens to her, it tends to affect all of her brain – including her emotions. This is true when biology is a factor (think monthly cycle, pregnancy, menopause, etc.) or when there is an emotional issue. Regardless of the area affected in her life (work, husband, kids, friendships, pressure in life), all other areas tend to be impacted.
Men's brains tend to view life in "boxes."  There is the box for work, the box for sports, the box for the emotional relationship with their wife, the box for the physical relationship with their wife, the box for kids, etc.   And most men do not want these boxes to "touch" each other. Men tend to compartmentalize their lives in a way that if there is an issue at home, they can "block out" that box, and concentrate on another one.
How Wives Reconcile Differences with Close Friends
Wives: Think for a moment about the name of a good friend that you have known for a number of years. Let's call her Mary. Chances are that, at some point, you and Mary have had some "spats." Sometimes they were over important issues, and sometimes you were surprised that such a small disagreement could hurt the friendship so badly.
Try and remember what happened and how you resolved the issue and restored the friendship.
If you are like most women, you find that you have difficulty forgetting about the argument.
You value Mary and treasure her friendship. You miss the conversations and sharing of life with her.
Then one of you has the courage to call the other and decide to meet for coffee. After some chit chat, one of you brings up the issue and the two of you begin to talk about what happened. Mary is just as miserable as you are. You both are afraid that this "spat" might hurt (or even destroy) your close friendship. And you don't want that to happen.
So, what do you do?  You talk about it!  Perhaps there are some tears, some apologies, and asking forgiveness from both of you.  And you resolve that neither of you will allow something like this to hurt your friendship.
Note: You and Mary want to talk about what happened. Because you value Mary and your friendship with her. In many ways, you are almost compelled to talk with Mary rather than risk losing the friendship.
How Husbands Reconcile Differences with Close Friends
For a man, the goal is the same, but the approach is completely different.
Husbands: Think for a moment about the name of a good friend that you have known for a number of years. Chances are you have no problem identifying that friend. But when I ask you if that friend (let's call him Frank) and you have had an argument during this long friendship, you probably can't remember one.
For good reason:
Let's look at how most men resolve a conflict with a close friend.
The two of you could have had an argument about sports, about politics, about money owed. It doesn't really matter
You get so angry with each other that you don't talk for several days – maybe even a week.
Then you buy two tickets to an LSU baseball game (assuming they do play again!). You do miss talking with Frank and spending time with him. But the problem is: The of you still aren't talking to each other!
You decide to "take the plunge" and give Frank a call and invite him to the game. His response: "Sure, I'd like to go. I'll meet you there."
You meet Frank at the ballpark. And one of you might mention the argument. The other responds with "Forget it. No big deal." And that is the entire conversation. As far as you and Frank feel about the friendship: "We're good." The "box" of that argument is over, done with, forgotten. You have now "made up" with each other (although you certainly would not use that phrase!). You two are close friends again.
Note: You and Frank do NOT want to talk about what happened . . . because you value Frank and your friendship. In many ways, you are almost compelled to NOT talk with Frank about it rather than bring the topic up again and risk losing the friendship.
Note:
For most wives: You and Mary want to talk (and talk and talk) until you both have completely discussed what happened, what upset each of you, what you felt, and how much you value the relationship.
For most husbands: You and Frank may not even mention the argument. And if you do, it is a brief two or three sentence "conversation" so you both can move on.
Is it any wonder that when husbands and wives want to reconcile and feel close again, there are obstacles?
The Pattern is the Problem
In most cases, both the husband and wife want to reconcile – want to resolve whatever is causing them to feel disconnected, rejected, alone, unwanted, unimportant.  But the "normal" approach that makes sense to each of them just doesn't work!
The main "enemy" is the pattern in the relationship. Their behavior toward their spouse is hiding their heart – hiding the desire to reconcile.
How can you as a couple begin to change your pattern? It usually helps if you have someone to "coach" you through creating completely different conversations. They seem awkward at first, but provide opportunities to transform the relationship.
The behavior changes as you are able to re-connect on a heart-to-heart basis.
Additional Resources:
Want to learn more about how to transform your marriage into something that you can anticipate for the next 30+ years instead of dread?
Give Steve Fox a call at CrossRoads or E-mail him at [email protected].   His bio can be found here.
Or look at some of his previous blogs: