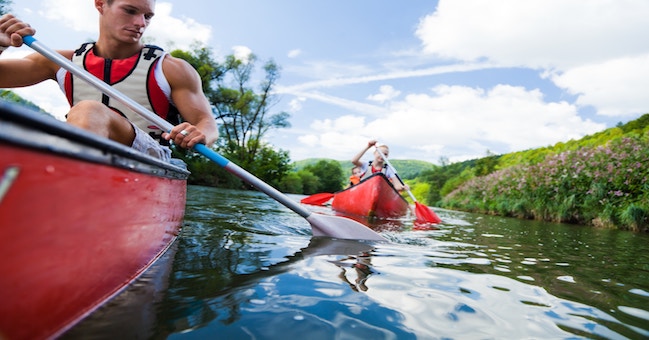 When I was in college I had the opportunity to canoe on some of the most beautiful and challenging white water in north Georgia, Tennessee and North Carolina. Picture some of the rapids shown in the 1994 movie The River Wild.
In the spring, the water was high and the currents were fast and challenging. But was it fun!  The rapids were difficult (category IV and V, for those white water enthusiasts) and when we reached the calm areas of the river, we would cheer about what great outdoorsmen we were.
One autumn, I had the opportunity to return to one of the same rivers on which I had such an exhilarating experience just several months earlier. But it was not the same.
The snowmelt and runoff were simply a memory. And the hot and dry summer had caused the water level to drop. Nothing dangerous, but…
The same rocks that had provided for us the challenging white water rapids in the spring now were obstacles. In some sections of the river, we had to carry our very heavy aluminum canoes out of the shallow water to where we could again canoe. And when we were able to paddle again, it was not as much fun.  The water no longer carried us. It now took great effort to force our canoe to continue down the river.
And what we had to avoid at all costs was what we called "canoe eating rocks"- large rocks that were just under the surface of the water that could easily catch our canoe. The canoe would then be destroyed as it wrapped itself around the rock.
What does this have to do with marriage?
If we look at my white water canoeing experiences as an example of what marriage is like, we can begin to learn some lessons.
When the water is high, marriage is fun.
The water itself is the circumstances in our married life. During our first years of marriage (our marriage spring), everything is great.  We are in love and we enjoy living life together with our spouse. Even the rapids provide us with new experiences that we can share.
But the rocks are already there… even during this spring of our marriage. We just don't notice them. And we don't want to admit that they are there.
When the water is high is the time to find and remove the rocks.
When we "like our spouse" and "feel in love" is the best time to be intentional and talk about issues as we become aware of them. The rocks are not yet obstacles. They are easier to remove. And we want to remove them together.
But often we don't want to ruin our honeymoon period, so we ignore the rocks- those irritations and differences in our expectations of marriage and each other. So we wait until…
As the water level drops, the rocks can become dangerous.
Life takes over. Finances, disagreements, differences in our temperaments and family backgrounds drop the water level. Perhaps the loss of a job or change of location. Even children (as much of a blessing as they can be) suck the energy out of us. And we no longer have the time for each other.
And as the water level drops and the circumstances become overwhelming, the rocks that were always there can no longer be ignored.  They can perhaps be avoided for a time through great effort, but sooner or later they will catch our canoe of marriage and perhaps even destroy it.
What can be done to remove the rocks and how?
Be intentional and begin early.
We are convinced that our love will be able to endure anything – so why make waves (so to speak)?
Since the rocks are already there, and we know that the circumstances of life will sooner or later become overwhelming, we must be intentional. Simply hoping the rocks will disappear just doesn't happen. And then when we finally have no choice but to address differences, we won't know how.
Doesn't that sound romantic?
The five words that strike terror into the heart of a spouse is when the husband or wife says, "Honey, we need to talk." That means that a difficult discussion is about to take place that will not go well.
A weekly 45 minutes to focus on talking about the marriage is so important. Not about the kids, not about work, not about schedules and commitments… but ABOUT US! At first it is awkward, but there are a number of tools that couples can use to help to begin the conversation.
This marriage staff meeting allows the small issues to remain small. If ignored until the rocks are exposed (as in white water canoeing), these issues can control us and easily cause a crises in our marriage that we did not expect and are not prepared for.
Develop a pattern of talking about issues.
Remember that practice does NOT make perfect. Perfect practice makes perfect.
If a couple can learn how to effectively work out the irritations, differences, and misunderstandings on the little things, they already have a pattern they can use when something major is causing stress and anger.
Talk about emotions first, before solving the problem.
None of us are motivated by information. So if we begin to first talk about solutions, we will find that we are spending all of our energy and time convincing the other person that we are right and they are wrong. Sooner or later they will certainly agree with us (after all, we are the one who is right!), but it never seems to work out that way.
The first step is for both the husband and wife to begin by identifying the emotions they are feeling and learning to express them in a kind way.
And if anger (or irritation, or being upset, or annoyed) is what one or both are experiencing, take a "time out."
This "time out" needs to be for a specific period of time. Perhaps for 10 minutes, or even an hour. It is important then to come back together to talk about the emotions and issues. Unfortunately, many couples simply wait until they are no longer angry and upset, and then "move on" – never really addressing the problem.
There is almost always an underlying "primary emotion" or "soul word" that is the emotional trigger for the anger. If we begin there, the couple's conversation changes. If each spouse is able to describe that emotional trigger – perhaps feeling disconnected, or invisible, or forgotten, or unloved or disrespected – it draws them together on a heart-to-heart level.
But that is for another blog…