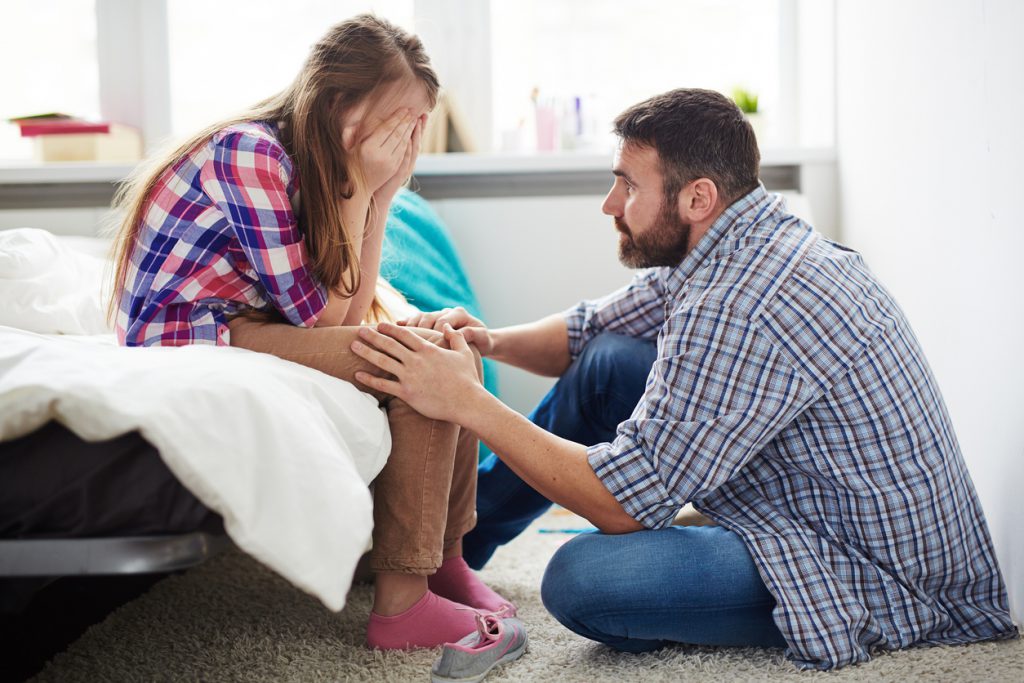 Does this sound familiar? STOP YELLING AT YOUR BROTHER!!!!!
For me, it is these and other parenting moments that I wish I could erase. I mean, how can my children learn to stop yelling by me yelling at them, right?
Children learn emotional regulation and communication skills from their parents, primary care givers, teachers, and peers. Teaching our children emotional regulation skills is one of the most important things we can do to ensure their future stability in life. Children and adolescents who can recognize, regulate, and express emotions appropriately are at less risk for struggling with addiction, relationship issues, and mental health disorders (just to name a few).
Emotions do not just go away if we refuse to acknowledge them. Regulating our emotions means that we recognize the emotion, allow ourselves to feel it, and choose to express it in a healthy way.
Here are a few tips for teaching this valuable skill to children.
Recognize and deal with your own emotions.
This can be tough for many of us, because we have been taught that emotional expression is a sign of weakness, or lack of control. Additionally, many of us may have been taught that negative emotions, such as anger, jealousy, or sadness were "wrong". However, the ability to recognize our emotions and express them appropriately is a very valuable skill. Emotional regulation is essential for maintaining healthy relationships, both personally and professionally. Also dealing with our emotions in an appropriate manner, can help ward off serious mental health, and the development of unhealthy coping behaviors down the road.
The important thing to remember, is that we cannot expect children to exhibit self-control/emotional regulation if we are unable to model this for them.
Model emotional regulation (self-control).
We must be intentional about modeling what emotional regulation looks like. If I am angry, it is healthy for me to acknowledge this feeling, and then express it in an appropriate and healthy way. For example, I can acknowledge that I am angry, and then choose to go for a run, exercise, punch a punching bag, take a "time out", or any number of healthy outlets for this feeling. When we are able to show our children that even adults have difficult feelings, and that they can choose how to address these feelings, we normalize their own struggles with emotional expression.
Promptly address emotional dysregulation.
This includes both for ourselves and our children. When we "lose it", (let's face it, this happens to all of us), it is important for us to discuss this with our children after we have calmed down. This of course does not give children a "free pass" for misbehavior or defiance. What it does accomplish, is teaching children that while other people's behaviors can elicit strong emotions within us, we are still responsible for what we do with those emotions.
Make a plan for future situations.
After discussing what went wrong, ask yourself or your child, "How could I/you handle this situation differently if it happens again?" Doing this helps children to recognize that they do have a choice to respond differently, and it helps them to find creative ways for handling difficult emotions.
Use real-life situations as learning opportunities.
If you have ever paid attention to your older child when he or she sees another child "losing it", you probably noticed that they found the other child's reaction extreme. Unfortunately, children and adolescents are not as skilled at recognizing their own extreme emotional responses. We can use these real-life examples to start a conversation with our own children about what it was like for them to witness this behavior, and how they think the child could have responded differently. It's amazing the impact that personal experience has on learning.
It is important to recognize that we cannot teach what we do not know! As parents, grandparents, care givers, and teachers, it is essential that we learn how to regulate our own emotions so that we can model this for our children. Remember, children learn more from what we do, than from what we say.