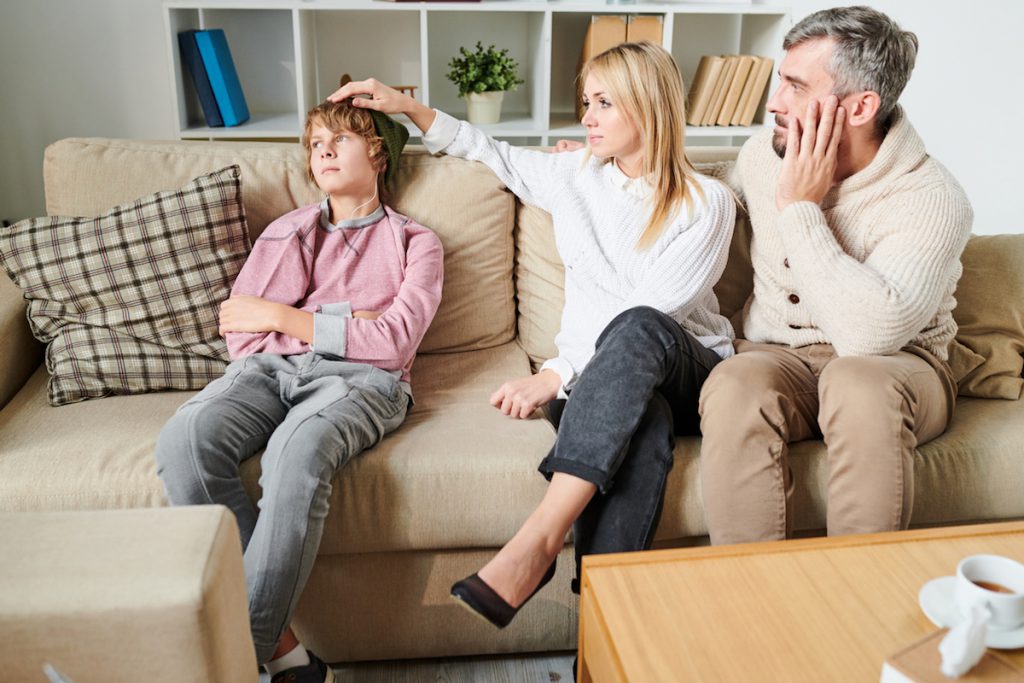 I just got back from summer vacation with our kids. I've written about them before, they're boys aged 14 and 11 years. We're currently in the throw of raising a teenager, and all the joys that go along with adolescence and 'coming of age'.
Although we had a great time, I was peppered with more eye rolls, 'whatevers', and a seeming complete disregard for common sense and the value of my opinion than ever before; and this coming from a kid who up until recently had always vied for my attention. For many of you reading this, you might be chuckling thinking yep – been there! For others, you might have little ones who still think you hang the moon. For some, you might be in the trenches right now alongside me and wondering 'who is this child and what am I going to do with them??'
In our house, puberty hit like a lightning storm and took our parental status from hero to zero within six months. Although I (really) miss the days of them being young, I am excited about this next stage and seeing them become young men. Along this journey, however, how do we navigate this stage and parent kids who seem to be pulling away?
Understanding That Pulling Away is Necessary
It pains me to come to this realization, as important as it is, because I've spent 13 years having my kids run toward me. Now my eldest pulls away and likes to spend time on his own. I don't like it, but it's totally normal, and needed. A major milestone in the adolescent stage of human development is the need to create a sense of self and autonomy.
This is critical for adolescents to successfully establish an identity and sense of purpose as they move into adulthood. Autonomy is a precursor to responsibility, which is necessary for adolescents to grow into functioning adults. The downside of autonomy for me as a parent is that as he learns to do and think more for himself, he needs me less…sort of.
Changing the Focus of Parenting
Although our older kids can drive, make their own food, bathe, and put themselves to bed, they still need their parents as much as before. When our kids are young the primary focus for parenting is their physical care. When they are more grown, the primary focus for parenting is character building and preparing them to be on their own.
Social and peer influence are major factors on our teens' decision making and self-esteem that will challenge all the lessons that we as parents have tried to instill. As the adolescent brain is rapidly forming and emotions are dominated by huge hormonal changes, their decision making will not be on par with full-grown adults. Adolescents need a longer leash and more room to roam; however, this should be balanced with reasonable boundaries set by parents that foster personal accountability, and that tells them we're paying attention.
Even though our kids may outwardly resent our parenting, they need our stability and reassurance that we've got their back.
Listening So They Will Talk
As a parent of a teenager, I'm learning that they may not always, or hardly ever, let me in on the details of their lives. I can't control or force that. What I can do, though, is pursue them with respect and interest. If teenagers feel that we're too busy or self-involved to care about what they care about, they will shut down and not let us in again.
They may be polite and do well in their activities, but we won't really know what's going on inside. When the planets align and they do want to open up, stop what you're doing and engage: full eye contact, listening, with minimal questions.
Repeating what you heard and asking if they want your thoughts is a good way to show respect for their ability to work through it on their own. If they ask for guidance, start with telling them about where you felt they handled something well. Avoiding critical comments is necessary to keeping the door open and going deeper into the conversation.
Being a Safe Place
It's both fascinating and scary to see my sons become their own persons, with opinions and beliefs that may not always match mine. As I don't do and believe everything that my parents did, neither will my boys. In order to keep their respect, and ear, I have to acknowledge that they are individuals with the right to respect as well. The best way to get your children to talk to you is for them to know that you will be a good listener, and that judgment won't be waiting for them.
Of course bad behavior requires correction; however, behind bad behavior is often deep seated emotions of fear, sadness, or loneliness that should be rooted out as well. It's important for parents to model healthy emotional expression and control that shows our kids that we are a safe place for them to be themselves. Because teenagers are flooded with hormones and emotions that they don't understand, it's critical that we don't act in kind with our own outbursts. I know this is hard and takes more patience than I can summon some days.
When I do lose it, I try to apologize as quickly as possible, and start over with what I should've said to begin with. Acknowledging our own shortcomings demonstrates grace that it's ok to mess up, and that parents aren't perfect either.
The road to adulthood can be rough and curvy. Adolescents are challenged physically, emotionally, and spiritually at this stage of life more than any other. If it's scary for parents, it's even more so for our kids; they don't know how to navigate it either.
I miss my snuggly, sweet boy that hung on my every word, but if I look close, he's still in there, listening to my words but evaluating for himself what he believes. He's coming into his own, with the ability to test and think for himself. I can't ask for more… except for maybe the occasional hug.
Is your family struggling on the rocky road of adolescence and could use guidance on the way through? Call (225) 341-4147 to speak with Cheryl or another Crossroads counselor.