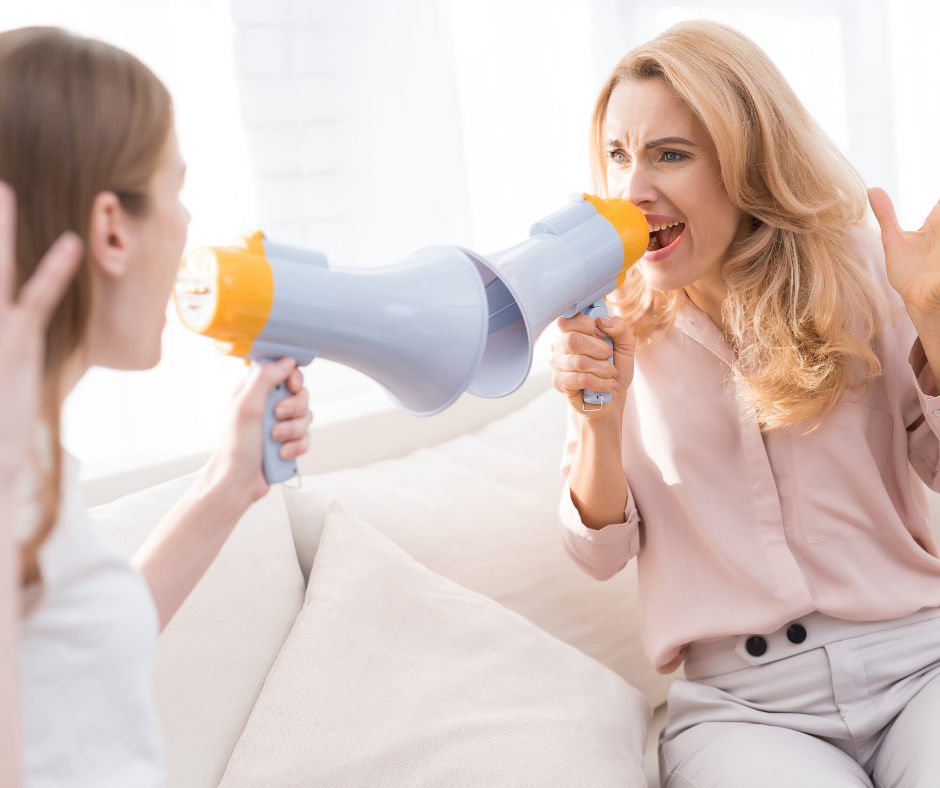 There's way too much shouting going on at my house, well there used to be. Living in the cacophony of me yelling at my kids, them yelling at me, them yelling at each other, and even the dog jumping in to the mix, I came to the realization that something had to change. Home is supposed to be a refuge, where peace and harmony dwell.
Is this even possible?
Intervention was necessary, and fast, before home became a place we hated to be. As the mom, I'm a big player in setting the tone for the house. Kids model what they see mom and dad doing, and if we're losing our cool and resolving conflict through a 'who can yell loudest' contest, it won't be long before they're winning at it.
I've seen many families who are struggling to lower the tension in their home and find a way to talk with one another. Although I haven't cornered the market, I am learning by method of elimination what doesn't work, and how to make communication more effective. After many failed attempts, I've discovered some basic tenets to talking with my kids that are slowly bringing down the shout factor in our home.
Everyone Wants to Be Heard
Most conversations don't jump straight to yelling, they escalate after one or both parties don't feel heard. There's a difference, though, between being heard and being understood. Frustration leads to shouting when we feel ignored or misunderstood. It's easy for parents and kids to jump to conclusions and over assume what the other is going to say. Teenagers are coming into their own person, and like adults, they have a voice that seeks to be valued.
Although we may not always agree with their point of view, slowing down to seek understanding in what core need they are expressing is a key factor in effective communication. They may not try to seek understanding in return, but parents who model this over time (we're the adults after all) teach their kids to listen first and to value each other's perspectives. 
Everyone Wants Some Breathing Room
It's no wonder that arguments are more common with teens than when they were younger; teens are developing strong social connections and an intense desire for independence. This isn't always a recipe for a peaceful home. Add daily stresses of school, traffic, work, peer drama, deadlines, grades, bills, and chores, both parents and teens are worn out before they even get through the door. All that is needed is a small spark, such as an eye roll or curt word, and a raging inferno is on.
Everyone needs some decompression time. Read the signals: if kid or parent had a stressful day, give time to cool off, get a snack, and relax a little. Productivity will increase and communication will improve if both parents and kids are given a little latitude to unwind before engaging.  
Everyone Wants Respect
Respect goes both ways. Of course parents require respect; however, children need it to. Arguments arise when one or both parties feel disregarded. It's imperative that parents establish a consistent rule of order in the home; however, there's room for kids to be part of that conversation. Teens especially rebel when they feel they have no control over their lives. Everyday consists of following rules at school, then following rules at home, with no authority to self-govern.
Demonstrating respect to our teens by granting some decision-making authority helps establish mutual respect and fewer stand-offs. I used to battle every day to get my son to do his homework when he got home. This battle of wills was beyond frustrating. He finally looked at me one day and said, "I'm going to get it done. Let me choose how." I was scared to let go of this control. What if he didn't do it and failed? We talked about some conditions and expectations, and agreed on a common ground. I decided that he was old enough to manage this, as well as the consequences, so I gave him a piece of the freedom he desired. It was liberating for both of us to not dread that daily fight anymore, and use the time instead to just talk with one another.
The short take-away is: pick your battles. Not every issue needs to be duked out; put your energy into the ones that are the most significant. There is room for flexibility and compromise to help both parent and child have their inner needs met. We learn how to treat one another through experience. I don't want me or my kids to arm for battle every time we come home because we're anticipating conflict.
Letting our kids know we're glad to see them will go much farther in improving behavior than being critical because a chore was left undone. I can rule with an iron fist and likely out shout my kids if pushed, but I don't want to. I'd rather have relationship with them, which actually leads to better discipline and critical thinking skills to make good choices. I'm ready for the Hallmark movie home, and although I can't completely control my boys' behavior, I can control my own, and in the process teach them how to pursue peace with their own children someday.