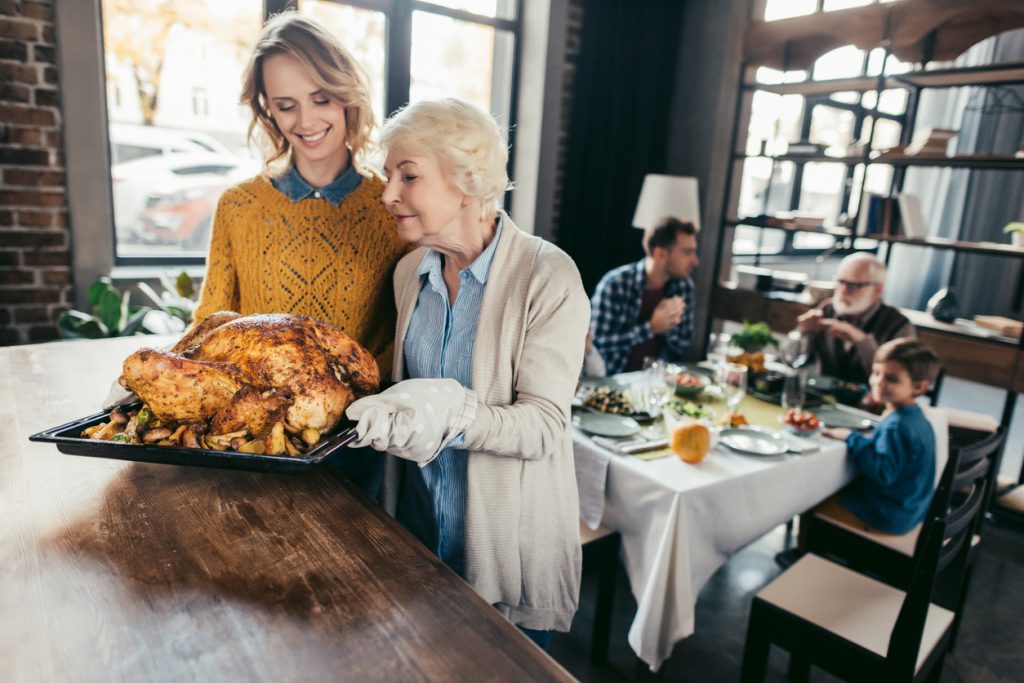 "Going home" for the Thanksgiving or Christmas holidays?
When we were kids, we waited for what seemed to be an eternity until this time of year rolled around. We would count down the days with paper rings, or we would open a "window" on a Christmas holiday Advent calendar (remember those?). The windows revealed some sort of surprise or item that brought our anticipation to even a higher level.
But as we become adults and raise families of our own, family gatherings can become something to dread. The relationships never seem to be quite what we desire, and we have given up trying to do something about it. So, we grit our teeth and endure—just hoping that we can survive the day (or perhaps an entire weekend) without some added emotional scars.
Why does this happen to us?
We Still Long for Our Parents' Approval
One of the most frequent issues that adult children face when returning home is a desperate need to receive our parents' approval. It makes sense. After all, our parents spent almost two decades trying to prepare us for adulthood the best way that they knew how. But sometimes this "preparation" included criticism and shaming – perhaps even manipulation.
So, we spend much of our emotional energy trying to figure out how we can "finally" obtain their approval this year. Or our goal might be to survive the gatherings without allowing it to discourage us (or even devastate us) days or weeks afterward.
For many, a lifelong goal is to finally make our mother or father proud of us. To acknowledge that we are responsible, mature adults who make good decisions – and are willing to face the consequences of poor ones.
But whenever we return home, it seems that we can't do anything right (again) – just like when we lived at home. It reinforces the core belief that we struggle with: "I just don't measure up. I don't have what it takes." So, we become discouraged, depressed, and perhaps even angry and bitter.
But what can we do? We have spent a lifetime trying to obtain their approval. How can we no longer allow their comments, criticisms, or silences to affect us in this way?
1. Consider Our Parents Needs
Rather than allowing our parents to "push our buttons" so that we become angry, upset, or discouraged, we can instead ask ourselves the question: Why are they acting this way?
Perhaps since the children left home, the giving of unwanted advice is simply a cry to be needed or significant. Our parents may feel pushed out and are simply fighting to be helpful.
Scripture tells us to focus on others rather than ourselves:
"Do nothing from selfish ambition or conceit, but in humility count others more significant than yourselves. Let each of you look not only to his own interests, but also to the interests of others." Phil 2: 3-4.
As hard as it is to realize, these verses also include our parents!
2. Consider Beginning to "Parent Our Parents"
It is often difficult for parents to transition from the adult/child relationship to an adult/adult relationship with their children. But it is also difficult for adult children to become aware of their parents' needs, insecurities, and uncertainties. We may even begin to resent the idea that they are the ones with needs. Helping our parents in this transition will help us to take the focus off of ourselves.
3. Consider Changing Our Own Expectations
Let's face it. Their hearts are in the right place. They want us to be successful and happy – but on their own terms. And the chances of our parents changing are pretty small.
So, I should simply change my expectations! Sound simple, right? But often when we return home, we find ourselves in the same roles that we maintained during our childhood and teenage years. It is as if we have entered into a time warp. We have changed, but our family relationships have not.
Why do we find ourselves devastated when our parents make "suggestions" on how we can do things differently: from parenting our children, to preparing the Christmas meal to decorating the house, to our choice of career or location to live? It never seems to end. Because we long for them to accept us, and we still want them to approve of who we have become.
If we surrender these unmet expectations – it frees us to begin to serve our parents in ways that we never considered.
4. Consider That Our Attitudes and Actions Model Relationships for Our Own Children
As our children grow older, they will begin to observe how we respond to our parents' behavior. By consistently responding to our parents with understanding and Christ-like unconditional love, we will impact our children in a much more effective way than anything we might say.
They can see how God uses difficult relationships to transform us into becoming more like Christ.
5. Consider Whose Approval We are Seeking
To simply "stop" seeking our parents' approval just doesn't work, does it? We have tried!
The only way to "push out" that desire is to replace it with something else.
Often, we don't realize it, but worry is a form of negative meditation. According to the Oxford dictionary, it means "to focus one's mind for a period of time" or "the act of giving your attention to only one thing." Does this describe what many of us go through in the days before the holidays?
If we focus instead on understanding how our Heavenly Father views us, it allows us to transfer this need for approval from our parents and instead meditate on the love and acceptance that He abundantly provides us through Jesus
6. Consider that God Promises to Transform our Mind
An important part of changing our expectations is to change our focus. For Christians, God provides us with some direction:
Romans 12:2 "Do not be conformed to this world, but be transformed by the renewal of your mind, that by testing you may discern what is the will of God, what is good and acceptable and perfect."
In many ways, our goal to obtain the approval of others is a way of conforming to their desires for us – rather than God's desire for us.
But how can we allow God to transform our mind?
As we intentionally change our "focus" and "attention" (see above definitions of meditation) to truth, our minds begin to change. But it takes time, consistency, and really believing it. And if our mind is focused on Biblical truth, we can count on it being true.
These principles are not easy. We are giving up longings and putting aside lifelong wounds. Surrendering expectations and serving those who continue to hurt us can only be done with God's help. But He is able and willing to transform our relationships if we will call on Him. He may surprise you this holiday season!