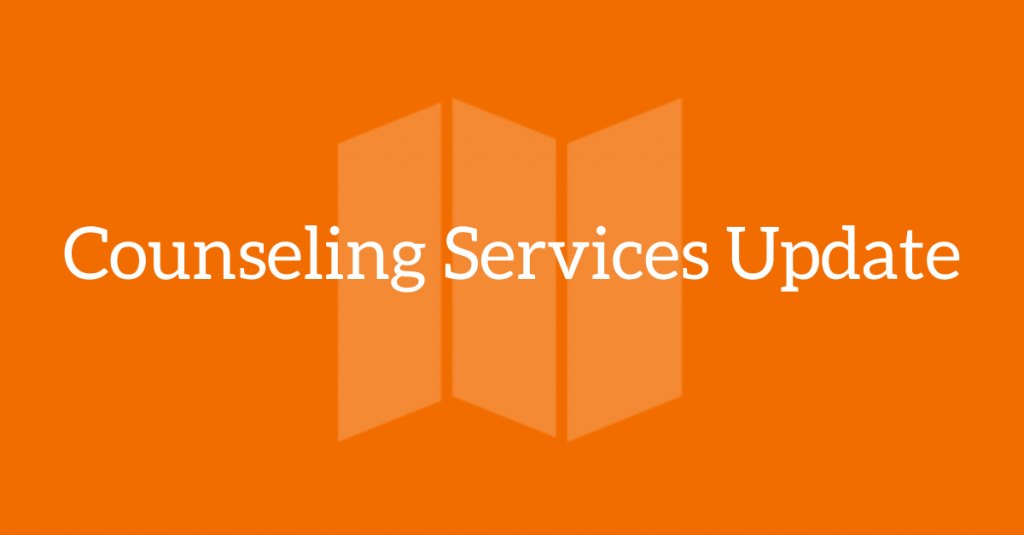 We know you are receiving messages daily from every place you have ever visited or purchased from and hopefully this one will make it through. The counselors at Crossroads wanted to update you. We recognize that this current situation that the entire world is facing right now is stressful to every one of us in a variety of different ways. We will be sending out emails in the coming days that will provide information and tools to navigate this new, though short-term, lifestyle.
Here is an update on our services:
Appointments
We will continue seeing clients for the duration. Currently, we are still seeing clients at our offices. We realize that being together for counseling is usually preferred; but may not be possible for some. We also have seen in other areas where even counseling offices are shut down.
In the event that occurs, or if you are just not comfortable or able to come in, we will be available for phone and/or video counseling.
If you call our office, 225-341-4147, we can still set-up appointments and explain how phone or video conferencing will work.
Office Appointments
We are implementing extra cleaning processes in an effort to keep our doors, bathrooms, and facilities sanitized.
We ask you to have anyone that is with you wait in the car so that we do not fill our waiting room. You may even consider waiting in the car until the time of your appointment. Our counselors will walk outside to let you know they are ready.
Additionally, if you are not feeling well, have a cough, fever, or any respiratory symptoms we would ask you to reschedule your appointment or consider a phone or video session. Late cancellation fees will be waived.
Phone/Video Sessions
We have secure HIPPA compliant video conference options that are very simple for our clients to use. All you will need is internet on a computer or iPad. You will just click on a link we will send to you by email and join the meeting.
We have secure online payment methods and can send you an online invoice to pay in advance, or you may make specific payment arrangements with your counselor.
We will send you a Telehealth Disclosure Statement to sign electronically.
As many of you are aware, some of us also do business and life coaching. As a coach, we have used video conferencing for many years and worked with clients across the world. We won't say it is better than meeting face-to-face, but it is very comfortable once you get used to it.
If you haven't seen us in a while, but this situation has brought on new challenges for you to navigate, we are here to help. Please feel free to get in touch and set-up an appointment. We all need to process at this time.
We are praying for all of our clients, families, community, and the world. We are thankful that our Lord, Jesus Christ is with us through it all. We take heart that God is in control and cares for us.
3 Praise be to the God and Father of our Lord Jesus Christ, the Father of compassion and the God of all comfort, 4 who comforts us in all our troubles, so that we can comfort those in any trouble with the comfort we ourselves receive from God.

2 Corinthians 1:3-4
We are with you,
Sue Miley