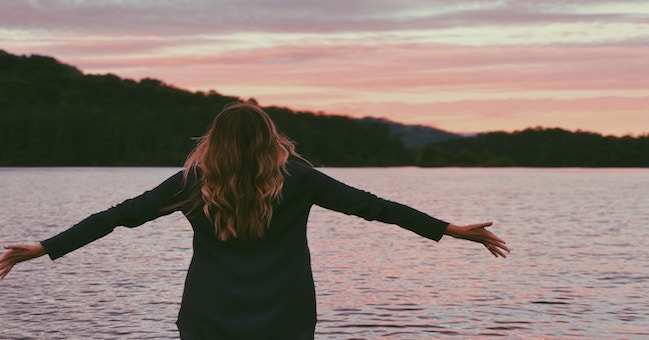 Becoming a counselor would not have been possible for me without first becoming a Christian. Everything in my environment growing up taught me to be independent. Our family was short on morals and money.  To afford to hang out with my friends, I had to work a lot. My uncle locked me out of the apartment often for my fowl mouth.
I vowed at a young age to make sure I grew up and became financially successful so I never had to miss out on some fairly basic things in life. After a lifetime of being let down, but too young to take care of myself, I also vowed to never depend on people. This angry young person was headed in a bad direction due to Satan's lies and living in the world.
The Contrast of Independence and Dependence
On the other end of the spectrum are kids growing up with parents who want to do right.  They want to build their kids up to be strong and confident and independent.
Parents strive to build their children's self-esteem, and look for workshops and books to provide guidance for confidence, and individuals only feel worthy with personal accomplishment. Satan strongly pushes the propaganda that the poor in spirit, the meek will lose out. Satan has used our own tools against us. He has successfully marketed in every form of media the human need for power, esteem, and personal self-actualization.
Yet, God tells us otherwise.  In one of Jesus' most prominent teachings, He exclaims and promises blessings and reward for those who are "the least of these".  In His Sermon on the Mount, Jesus preaches the Beatitudes, the first three claiming significant and meaningful eternal blessings for those who are poor in spirit, in mourning, and meek.
Blessed are the poor in spirit: for theirs is the kingdom of Heaven. (Matthew 5:3)
Blessed are those who mourn: for they will be comforted. (5:4)
Blessed are the meek: for they will inherit the earth. (5:5)
How do we reconcile such a contrast?  And how do we make it through this world if we do?
Giving Up the Fight
I personally fought for awhile before Christ found me.  I worked like a ninja to get noticed in jobs and to get promoted and build financial security.  Thankfully, the Lord, even when I didn't know Him, provided me with the right man to marry.  One that accepted my need at the time to not depend on anyone.  Yet, like Christ, has always been there for me, waiting for me to quit fighting everyone, including him.
Christ knows that we want to be in control of our own destiny. He also knows that He is the only one truly in control.  And He is incredibly patient waiting on us to realize this for ourselves.
When my child lost all of her hair to alopecia, and at the time I thought she was dying, I learned once and for all that I was not in control and never had been.  On my knees I gave up the fight.  I had turned to God in desperation.  My daughter's needs that I couldn't fulfill and about a half dozen other train wrecks going on in my life, convinced me that I needed a savior.
With it came a shift as dramatic as black to white.
The Poor in Spirit
I learned that I was nothing without Christ.  That any lasting accomplishment was His accomplishment worked through me.  Because I have such a stark before and after, I humbly knew that what was happening was God. I gave up:
trying to buy specialists to grow back my daughter's hair and began to pray that my daughter would know Christ and that He would take care of her always.
working my 70 hour a week highly compensated job and decided to be a counselor to help others find God's healing and path for their life.
fighting everyone for independence and looked to my husband to take care of our family financially.
trying to find esteem and confidence through what the world thinks is important.
Since this dramatic change I learned how far away from Christ's example I was and truly learned to fully depend on God.  I am not saying I don't give in to my natural tendencies and try to fix things or take control, but these efforts are without fruit and lead to stress and disappointment.  But, God in His faithfulness proves Jesus' words true to me over and over.  As soon as I let go of control and pray for God's will and His Spirit's leading, peace returns.  Good in some form comes every time.  Even if the good is just a change in my attitude. 
The Meek
"Blessed are the meek" – These are the individuals who understand their spiritual poverty, mourn over their lost condition and are willing to submit their lives to the will of God.
When life isn't working, we are humbled.  You can be humbled and not be humble.  You can be humbled and still grumble about your circumstance and give up completely.  Not just give up fighting God for control, but give up and despair.
When we are meek, humble and obedient to the power and will of God, we are not giving up.  We are moving forward in life to following Jesus.  We are willing to truly accept a Savior, a Lord over our life.
The Game Changer
I pray often that Jesus will get me out of the way of myself and help me to become a vessel for the Holy Spirit to work through.  Why would I do that?  Why wouldn't I just try to do God's will myself? This is the big game changer for me.  I can't.  He has to work through me to even come close to doing His will.  My obedience is my willingness to give up self, let God do the work, and He gets the glory…it was His all along.
As a counselor, I want to help people to know Christ and to let go of this world and follow His ways.  If I had become a counselor before becoming a Christian, I would have:
felt a huge burden to fix everyone's problems, like it was my responsibility.
worked hard to help people become strong and independent in order to make it through this world.
probably told people that their solution was in something they could do or change.
As a Christian, I have learned personally and share in counseling:
our strength comes from the Lord.
our peace comes from the Lord.
and our healing comes from Him too.
We have to receive the revelation that:
we are poor in spirit – powerless to save ourselves.
accepting Christ creates a true mourning – we are sinners and we grieve our past separation from God.
we are meek – powerless to save ourselves, mourning our lost condition, but willing to submit ourselves to the will of God.
Please notice that I say we should receive this revelation, because again, even accepting God's call requires Him!