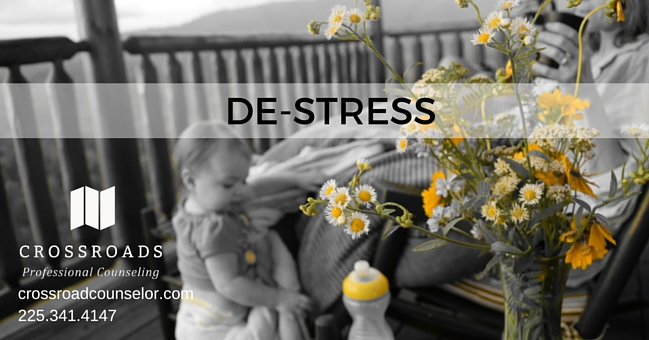 Stress enters the body from many sources.  Be it the loud horns blaring as you try to make it through the morning traffic maze to the physical stress of muscles aching and breathing labored from a long trek up a mountainside.  More likely from the aggravation of kids needing you while you are trying to cook their dinner, clean up their mess, or merely hiding in the bathroom for a moment of solitude.
Stress is a flexible, all-encompassing word these days with implications mentally, physically, and even spiritually as we are drained of energy, depleted of thought capacity, and dwindling hope.
Ah, but for a few moments to unwind.  To stroll alone between the written words lining the bookshelves of the local library or bookstore.  To stop and really smell the roses and delight in the colorful wildflowers along the way.  Finding our place of peace to spend time with our Savior.
God says we are in the world but not of this world.  This to me is a license to escape the limited, all-popular, state of the times.  The state of stress.
If we understand and believe in our hearts the promise of eternity, it changes everything here in this world.  It becomes small; our stress diminishes in size and repercussions.
But, we have been placed in this imperfect place with flawed people who we love and live with. We want to participate big and fully.  Would this also be diminished if we try to put stress and the world in it's true place in forever?
The balance is daunting, and quite frankly, beyond us.  Thankfully, we don't have to do it ourselves.  It is not up to us to strike the perfect combination of concern and intentional living in each today, with the promise that one day none of it will matter, and we will be safe in the loving arms of our Savior.
We can draw on those strong, loving arms today.  We can rest in His capable balance.  We can let him work through us when the stress feels like it is about to swallow us whole.  We can ask for His words to say to undo the undoable in the argument with our spouse.  He will help us envelope our child when that last nerve breaks and we were less than loving.  And in those moments where we find silence to think and to feel, we can be assured of His promise that He will provide rest, comfort and healing so we can go back and face the storms of this world.
Picture it.  Seek it. Take the moment to…

De-stress.