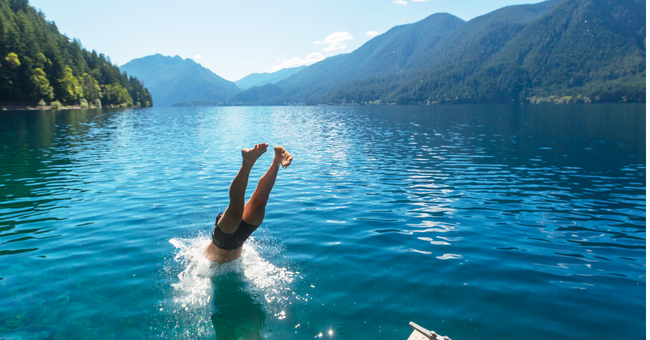 I am involved in lots of stuff.  Looking from the outside someone may say "She is always involved in something new.  She isn't afraid of anything." They might say that, but, then they would be totally wrong.  There are so many things I want to do, but chicken out, that the list is starting to eat up space on my hard drive.  The thing that many of you can probably relate to is that if I do tiptoe out of my comfort zone I am usually really glad I did.  But then I look back at my really long list of all of the scary things I want to do and I go back into avoidance mode.  At least for a time.  Then I go into self-counselor mode and give myself this pep talk!
What is it you are afraid of?
I have to ask myself what I am afraid will happen if I go out of my comfort zone.  Like if I decide I want to start a small group and I think of all of the great ideas that the group could do and I make a list of  wonderful people that I want to invite to the small group and then I never do it.  I won't say never, because I have started many small groups, but when I first wanted to start a small group it was the scariest thought in the world.  What was causing the fear?  My first thought was that noone would want to do the small group and then I wouldn't be able to start one.  Well guess what would have happened if I never tried??  I absolutely definitely wouldn't have started a small group. Trying gives me a shot!
Okay, but what about the overwhelming rejection I may feel.  That is possible but most people are nice if they reject you.  And quite honestly sitting here wanting to start a small group, but assuming total rejection, seems to feel as much like rejection as it would if I actually tried! ( and was rejected)  Now I am doubling up on the self-fulfilling prophecy.  I don't get to start a group and I feel rejected anyway!
Where is the evidence?
It is really funny because I always ask clients who are worried about something "What is the evidence that this will happen, or that this is true?"  Most of the time when I ask, the client cannot come up with any evidence that what they fear will or should or even may happen.  When I ask myself "Where is the evidence?" I have the same answer, "There isn't any."
As a matter of fact, one of the reasons I first wanted to start a small group is because I had heard other people talk about wanting to be in a small group.  Not only is there no evidence that it will fail, there is actually support for a small group.
What if I Just Make Myself?
If there are already a couple of people who want to join one, maybe I could do it.  Even if it doesn't come together right now then other people will know that I am willing to facilitate a new group and maybe it will come together later.  A sliver of optimism enters my heart.  Will it last?  Probably not, so if I am going to do it I better "just make myself"!  I begin to run all of the scripts through my head:
"No pain, no gain!"
"Just do it!"
And recently I was doing the new Beth Moore bible study Esther.  I wish I had written what she said word for word but I will have to paraphrase.  She was talking about how crippling fear is to us and that a lot of fear is self-inflicted.  Her paraphrased comment was " You are one step (one decision) away from living the life that God had planned for you!  What if your own fear keeps you from taking that step?"  That would be awful.   I think the idea of missing out on the life that God has planned for me is exponentially scarier than "not taking that one step!"I
Reflecting back
Somehow, somewhere I took the plunge and started a small group.  I was able to get a few women to agree to meet once a week.  All of my fears were for nothing.  Wasted energy and emotion.  Did I learn my lesson?  Of course not. Then I started worrying about if they were going to show up each week….would anyone talk…would we all mesh…and so on.  But, I am not as hardheaded as I seem.  Over time I have built EVIDENCE that I CAN face my fears and live to tell about it!
I have a sign in my office that I bought many years ago that says it all:
The jump is so frightening between where I am
and where I want to be…
Because of all I may become
I will close my eyes and leap!
Please share with us any tips you have figured out to help face your fears!