The other day, my friend handed me a gift. An unexpected gift in the form of a Magic 8 Ball. I giggled as I opened it and remembered all of the times I shook an 8 ball as a child and really believed it was magic. Even now, in my 20's, I brought it to my coworker and we laughed about the big, scary decisions that the Magic 8 ball was solving.
Should I move here? "Signs point to yes."
Should I be with this person? "Without a doubt."
Should I take this job? "My sources say no."
There. Problem solved. Decision made.
I thought to myself, why can't all of life's decisions be this simple? Why do I struggle to produce a "yes" and a "no" over these major decisions and keep them in limbo for far too long? Better yet, why am I indecisive at all? What is holding me back from making a decision?
4 Motives Behind Indecision
The more I reflected on our inability to make decisions, the more I realized that it's not so much about the decisions at all. There are roots much deeper than simply 'not knowing.' Roots that I think can really take a toll on us.
1. We fear what people will think.
Decisions imply that we have come to a conclusion about something – whether it's our preference on food or what we believe is the most beneficial use of our time. Our decisions reflect who we are, what we like, what we believe, what we value. So naturally, making decisions can be scary if we are walking on the eggshells of what people may think of us. Fearing what others think holds us back from making confident decisions. It keeps us trapped in indecision because we are afraid of being rejected, being misunderstood, or being different than the rest.
We must learn to fight that with the truth of who we are in Christ. We are created differently and uniquely. Which means we are not always going to see things the same way as those around us and we are not always going to make decisions that others would make. And that's okay. It is okay to not always agree with those around you. Allow yourself the freedom to make a decision free of worry of what others may think.
2. We fear missing out.
I really identify with this one. Making a decision means saying no to another one. And in doing so, we are essentially missing out (in our minds) on whatever that other decision held. If we say yes to that job, we are saying no to the other one. If we say yes to that move, we are saying no to any other location we may want to be in. Our fear of missing out on all of the possibilities in front of us keeps us trapped in limbo, not wanting to make any move. We run through our minds all of the possibilities and try to lean towards the one that allows us to miss out the least. Of course, that doesn't happen so we stay stuck in indecision.
I think we must remind ourselves daily that in Christ, we lack nothing. That He has already gone before us and prepared the way, and in Him, we have all that we could ever need. So we can make a decision, even if it means saying no to another one, knowing that we lack nothing in Him. Also knowing that He can use any location, any position, any relationship to teach us and grow us – therefore, no decision goes to waste. No reason to fear missing out.
3. We aren't trusting God.
There are times when I knew the Lord was moving me in a direction and yet I was scared and I was stubborn and I was not obedient. So I stayed in indecision. I knew I should leave a relationship. I knew I should stay in something that required perseverance. And yet, in my head I kept going back and forth on the decision, unable to confirm in my heart the reality of what needed to be done. That indecision was simply doubting what God had strongly revealed to me. So often, we know the answer. We know the decision. And we wrestle with God on it because it requires a whole lot of trust and dependence on Him. Our lack of trust keeps us stuck in limbo (and disobedience).
My friend, what He has called you to might not look like what you originally planned. That's because it's far better. What He has in store is way beyond anything our finite minds could have imagined for our lives. We like to limit God in our boxes instead of simply saying, yes. Yes to wherever He leads us. Trust God and confidently walk in that calling.
4. We fear not being sure.
Sometimes, we truly do not know what the best decision is. There are two really great options or there are different possibilities that all give way to furthering the kingdom of God. We are open and available and ready to say 'yes,' yet we truly do not know which one we should walk in. With that, I think we get hung up in all of these "good decisions" and fear not being 100% sure before we make one. We fear not having that audible voice of God saying, walk this way. Or that sign we've been praying for. Or that answer we've been seeking. We are waiting to 'know.' We are waiting until we are absolutely sure.
To that I say… God grants us the freedom to make decisions that align with who He is and what He has for us. We don't have to always wait for this big 'sign.' Knowing the Lord means knowing His purpose – and His purpose is to make His Name known throughout all of the earth. We can be bold in making a decision that aligns with that. There is freedom in walking in through open doors.
Letting Go of Indecision
Indecision is often an uncomfortable place to be. We feel unsettled and confused and alone in the decision-making process. We are ready to move past it and make a decision. I think it's because indecision sheds light on some of those deeper issues that may need to come to the surface. We need to work through what others think, or we need to start trusting God and trusting Him big. The beautiful thing is we aren't alone. God uses the decision process to refine us and point us to Him. Let's lean into Him and start making decisions – starting with the easiest one:
Should I let go of indecision? "Absolutely yes!"
________________________________________________________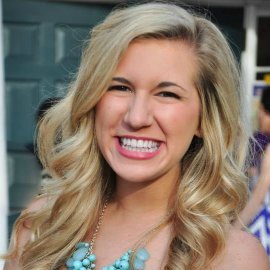 Haley DePrato is the marketing assistant at Crossroads Professional Services. She is a recent graduate of Louisiana State University with a degree in Child and Family Studies, with hopes of soon getting her MA in Marriage and Family Therapy.