Transition seasons are both uncomfortable and unavoidable. Some of you may be transitioning from college to adulthood to declaring "single" to "married" on your pesky tax forms to moving from married couple to parenting couple.
Before I graduated college, I was at a loss for what I wanted to "do" or who I wanted to "be" when I grew up. At the time, one of my dear friends – Emily – was functioning as my spiritual mentor from a distance. We often struggled about similar feelings about our walk with the Lord or our shortcomings.
During the two years we discipled together, we were both walking through what we identified as a "desert season," and geeeeez, it was uncomfortable, unavoidable, and divinely rewarding.
Last month, I attended a small retreat titled "Aside" that Emily hosted in her home. She invited almost-graduate aged girls to learn about Moses and his transition season.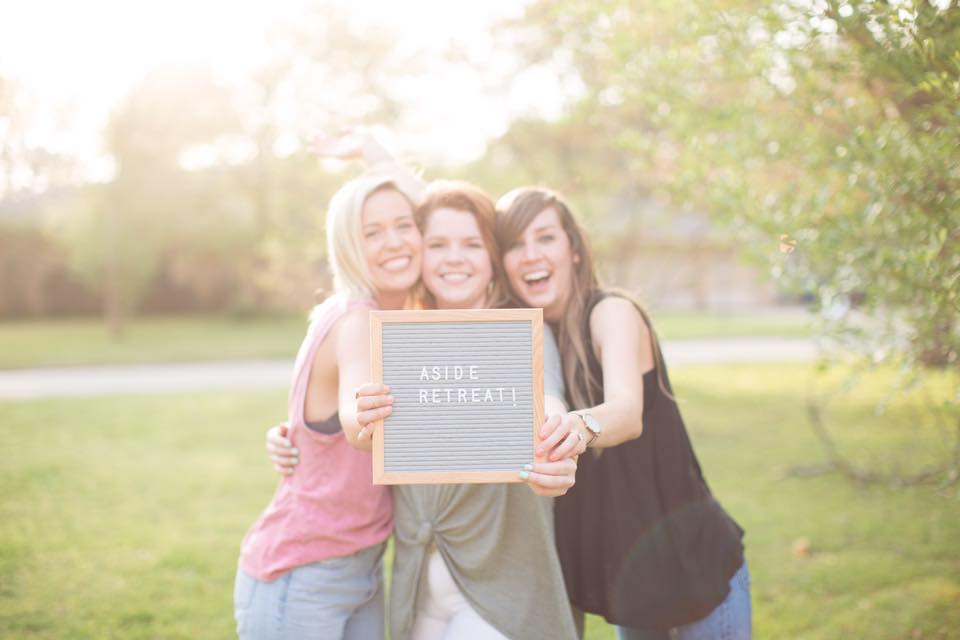 The Desert
Growing up, I loved learning about Moses and his faith for the Lord. He pursued God in the most challenging situations, made the hardest choices, and was headstrong in the pursuit of God's will. Moses was the man.
Moses also was a scared man before he welcomed the Lord to lead his life. Before Moses was the man who freed the Israelites from Egypt, Moses was a shepherd in a desert.
Moses was transitioning from living in Egypt as a prince to tending to sheep in the desert.
As I moved from college to adulthood, I was stricken with fear of what God's plan was for me. Did He have a plan? Surely He must… right?
I began grabbing onto everything in my life that was steady – family, friends, part-time jobs, sleep schedules, and getting another undergraduate degree. (I now see the error of my ways, don't worry).
Biblically, God uses the physical desert to reveal Himself to His children; we see this in the story of Moses in Exodus and the prophecies in Isaiah. In real life, the desert may not be physical, but emotional or mental. The times in your life that feel drawn out, unproductive, or meaningless are typically those dry, desert seasons.
Turn Aside
When Moses was in the wilderness, he walked up on a burning bush. Emily had a theory that because the desert is an arid climate, perhaps bushes were always ablaze. If that were the case, the image of a burning bush may have not been too uncommon.
Contrastingly, maybe this type of scene never happened and there was a flaming bush in the middle of a desert. Regardless, there was a bush on fire.
The moment Moses "turned aside" to glance at the bush, God spoke to him.
The moment Moses paid attention to something very normal in front of him, God spoke to him.
At this encounter, God briefly outlined Moses's next steps on how to free the Israelites. God did not speak to Moses when he was a prince and lived in the Pharaoh's palace, but instead used Moses's transition season of vulnerability to transform his heart.
Make a List
Throughout my first two years of college, I changed my major nine times. Thankfully the university did not charge a fee! I was lost, distraught, and extremely frustrated, as I am always the woman with the plan, schedule, and passion behind my actions.
My mother gave me some of the best advice I've ever received: "Study something you're good at. Don't worry about the next seven steps. Listen to what Jesus is calling you to do and do it."
If there's one thing you need to know about me, it is that I love a good list. So, I sat down and made a pro/ con list about different majors that I was interested in. From there, I made another list of my strengths and weaknesses. Then, I applied both lists to each other and came up with my new major – Creative Writing.
Had I not turned aside and dug into my talents, I would not have ever identified that as a calling in my life.
Since making that decision two years ago, I have met some of the most incredible mentors and friends.
I have gained experience with marketing that I never imagined.
I have experienced God's grace again and again in my daily life.
Moses felt ill-equipped to lead the Israelites to freedom. He was a murderer, had a stutter, and was an outsider in his homeland, but God still provided. God allowed Aaron to be the spokesperson of the journey. God delivered a team of followers to Moses to support him. God softened Pharaoh's heart to hear Moses's message.
How is God equipping you for your journey? What grace is God surrounding in your life to help you succeed? Who is in your life to support you?
Trekking Through the Desert
Step 1 – Where is your desert? Is it your hometown? Workplace? Career? Academic Institution? Where do you flee to when things are tough? Or, what do you flee to when you are knocked down? By identifying your personal desert, you can become more aware of where God is shining His light in your life.
Step 2 – Turn Aside.What is the burning bush in your life? Is it the feeling in the pit of your stomach about a person? Is it the excitement you feel when you read new job descriptions? Is there a new place that you have an indescribable draw to? Take a breath, take a step back, and look at what is going on in your life. My personal advice is to make a list, but hey, do what works for you. Which brings me to my next point…
Step 3 – Make a list.What makes you uniquely you?  What are your strengths? Weaknesses? What do you love? What do you loathe? What experiences do you have that have formed you into the person you are today – both positive and negative? By looking at your life from a bird's eye view, you have the opportunity to gain a new perspective on what God may be using in your life as a tool.
Photos by Emily Boone Photography