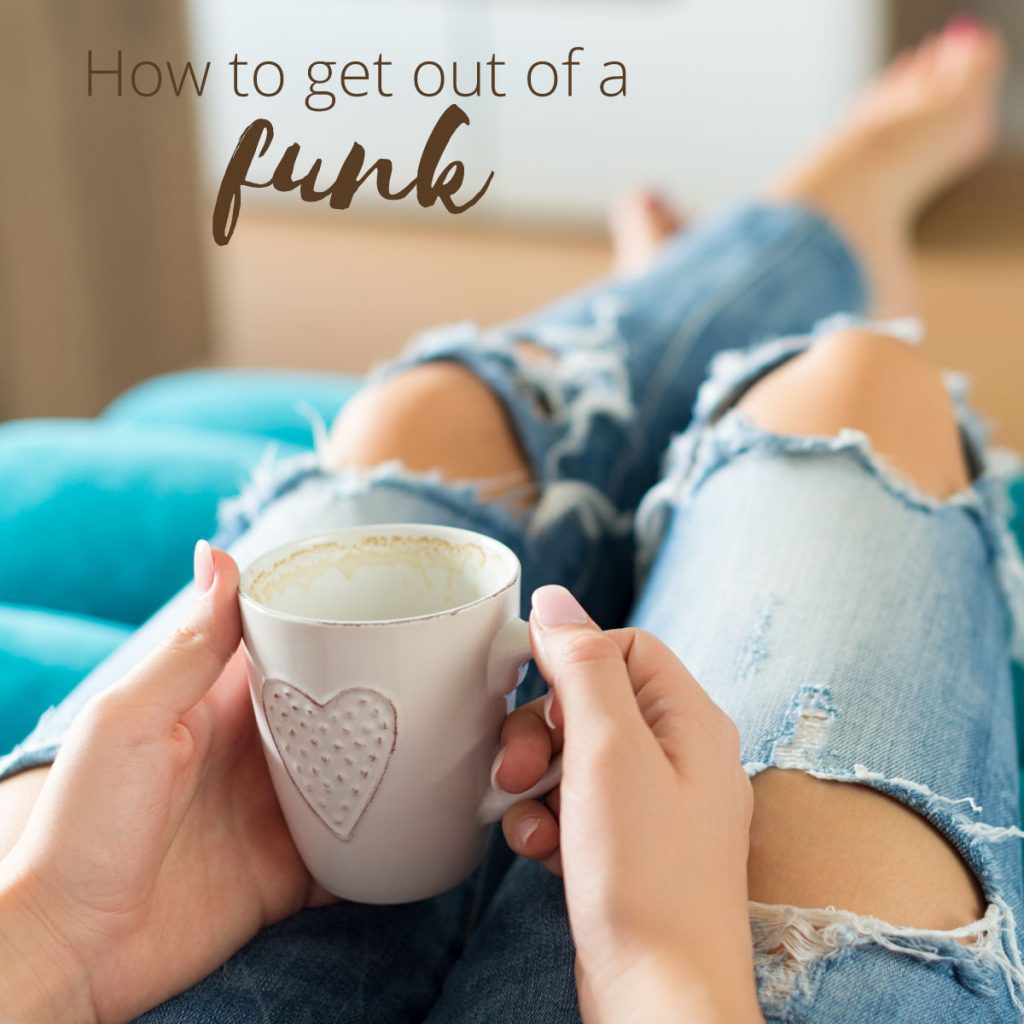 It seems so simple. Your bad mood you were blaming on the crummy weather, the frustrating job, and just not getting enough sleep has turned into an ongoing stasis of life. It's not really a terrible, momentary irritation. It is more like a low-grade slump.
Fortunately, it isn't turning into anger or constant frustration.  Nor is it a serious depression. Afterall, you are still taking care of what needs caring for and you are getting up and out every day.  But it certainly isn't your jump up out of bed without an alarm and energetically charge into the exciting and busy day. No, it isn't that.
It is a funk.
(That is my clinical term for it.)
I get into a funk though and I hate it.  They creep up on you, so you don't see it coming, and then you wake up one day and it is official.  You aren't excited about anything. I think for me, feeling apathetic is almost worse than anxiety or depression.  Usually when it is one of the latter, I at least know the "why" behind it.
The subversive, under-the-radar, just-losing-energy-and-excitement-for-life is hard to pinpoint. When I think about it, I often never do. Yes, at times getting sick can start the process. Or having a disappointment at work. But in most cases, I all of the sudden realize my lack of enthusiasm has become a thing and I am officially in a funk.
The good thing is that when I finally realize it, I have become pretty good at changing the course. It isn't a quick reversal though either. And now that I am aware of it, it seems like it takes forever to change the trajectory.
Here are a few of my strategies that usually do shift things:
Diligently go back to my morning routine.  I am at my best when I wake up early, have time to read, write in my journal, workout, have a good breakfast and then get ready for the day.  That may sound like a lot of time, but on workout days I wake up at 5, make it to the gym for 6:30, back home for breakfast and getting ready and out the door by 8:30 am.  When I am purposeful, consistent, and push through even if I don't feel like it, I soon look forward to getting up early and getting the day started.

Flee reaction-mode and shift back to a proactive mindset.  Must of my funks either start with or end up with me being in a reaction mode.  When I am in a reaction-mode I am usually running let for everything, finishing everything right when it is due, not being intentional with my time, and usually not consistent with my morning routine.  When I am proactive, I make time for things that are fun, like painting or getting together with friends. I usually have personal and professional goals listed out and have built into my routine what I need to do to achieve them.  And, I am usually making progress on things, which always helps when avoiding a funk.

Praying and focusing on the Lord.  It really is like any relationship.  When I put time into my relationship with the Lord, I feel His presence.  I am not lonely. I ask for help. Basically, I am not doing life on my own.  When I am not focusing on God, I am usually not thinking about Him and thinking about how hard things are in life.  It can be simple things like renewing my driver's license, watching the stock market plunge and trying to ignore the Coronavirus scare, or simply doing my billing for the month.  It also seems like drudgery and difficult. When I am focusing on Jesus, I am thankful that I am relatively healthy for my age and the coronavirus, if I get it, probably won't kill me.  But either way, I am not in control, and need the peace that comes from Jesus to keep me positive.

Ride the momentum.  Like I said, reversing the proverbial funk takes a minute.  But, now that I am paying attention, I start to see the signs of movement.  I want to ride the momentum back to my energetic, embracing life state of being.  For me to make sure I see the change, I track things. Yes, I really do. Even though no one else really ever sees it.  I may actually track my mood each day. I will have a chart to check off if I exercised, ate healthy, and wrote in my journal.  Then I can actually see the momentum if I can't fully feel it yet. I know if I do the right things for me, soon the funk will slink back into the darkness.

Find external motivation.  I wish I was one of those people that had complete internal motivation, but I'm not.  If I am in a funk, I hunt for novels, books, podcasts, songs that inspire me. I try to surround myself with positive inputs.  I love a good novel that gives my worry a rest. I am inspired by just about everyone who has ever been on NPR's How I Built This.  And, yes, I actually like the cheesy Christian contemporary music on KLove or Sirius XM. If I am truly honest, on occasion I will also watch something sad or read about others whose life is more than just in a funk.  Then I feel bad and am grateful for my safe little funk.
These may not all work for everyone, but they are a great place to start.  If you are just feeling blue or melancholy, at a minimum, I recommend the basics of healthy living:
Eat clean.
Exercise 3 or 4 times a week.
Get 7-8 hours of sleep every night.
Pray, pray, pray.
It is the foundational things required to jump start our engine. Everything begins there. Then try things and see what works for you.
The things I have to remember are, that a funk is temporary, it isn't deadly, and it pretty much happens to everyone at some point or another.
And thankfully, Our Father in Heaven cares about our moods, and will stick close by if we let Him.