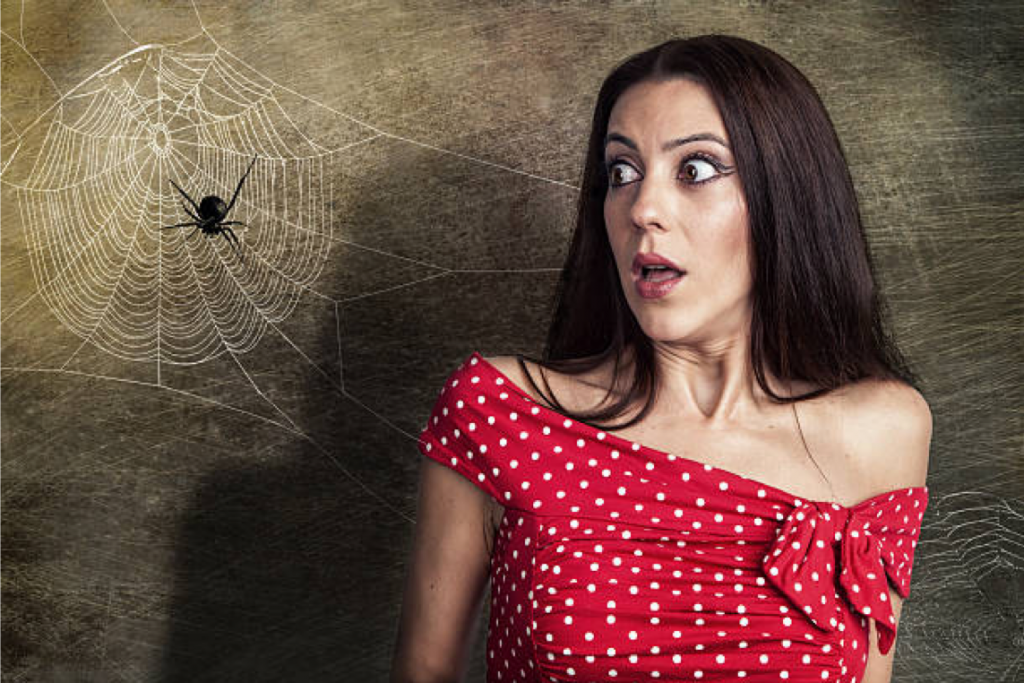 The truth can hurt. We don't want to deal with things that feel scary and painful. People can be endlessly creative in finding ways to resist seeing what they don't want to see. The problem is what we do to avoid anxiety-provoking situations keeps us stuck and amplifies our pain. Nothing changes. We simply continue recycling the pain.
This pattern is especially apparent when someone we love is caught in addiction, or other dysfunctional patterns. It becomes a challenge to face the source of our anxiety, accept reality for what it is, and proactively-not reactively-make a path forward.
A friend wrote a piece I would like to share, illustrating the point beautifully through the metaphor of the thing she hates most in this world–spiders. The title of this blog borrows from hers.
Spiders and Booze
Diane O'Loughlin
Alcoholism is like a spider that lives under your bed (this only really works if you don't like spiders, so put something you don't like under the bed if you find spiders enjoyable).
It starts the first time you see the spider. You may try to kill it (sorry spider-lovers), but it cleverly scuttles back under the bed; you wisely leave it alone, but you know it is there.
Sometimes you think you see it, but it always disappears and you can convince yourself it no longer exists as long as it stays under the bed. Maybe it died.
Then it comes back out, often after you are convinced it no longer exists. It seems bigger and leggier and you are forced to feel fear because clearly it is being fed under that bed instead of conveniently just being gone.
You swing your bug swatter a few times (threats to leave, cries for help) and it eventually returns to its lair to fatten up, out of sight, out of mind.
Time passes and you are fairly certain all is well, but let's face it, you have not looked under the bed or moved the bed to check on the status of the spider. It's scary.
It comes out to visit. You are not pleased but now you aren't as afraid because you are becoming familiar with the routine. Your main goal is to complain about the spider to others and ask for tips on how to get rid of it. You think about life without the spider, how much better it would be. You think about life with the spider and how much you hate it.
You consider living in another room or even another house just so you don't have to think about or deal with the spider. No one blames you for that.
Other people tell you their spider horror stories and you realize many of them have spiders under their beds. The ones that killed the spider know more spiders are out there to take up residence. They actually have new routines now which focus on spider prevention (which should have its own holiday). They have really specific daily habits that they must do to keep the spider from returning like spraying bug spray and cleaning under the bed daily. They have to actively think about NOT having the spider there or that miserable creature will find a way to squeeze in through a crack in the window, scurry across the floor unnoticed in the light of day and set up shop under the bed choosing the most inopportune time to pop out for a revisit.
Ironically, the business of living with the spider under the bed is easier to live with than pulling the damn bed out from the wall, exposing the miserable creature underneath and squashing the hairy beast once and for all.
If you do that, you will have to take charge. You will have to be aggressive. You will have to kill the spider. You will have to clean up the mess. You will have to adjust to living without the spider under the bed and all the routine it brings into your life, even though that routine is sucking all the joy and hope out of you.
You will have to take action. You must expose the spider and be willing to kill it. You may have to move out of your house while the extermination takes place. Your life will change. There will be disruption, mayhem, a feeling of displacement. The spider may escape your house and move somewhere else.
All you know, is you are tired of living with it under your bed, never knowing when it will come out, knowing it is not going away, and wondering how big it will be when it comes out again.
Your heart races. You chew the inside of your lip as you consider calling the exterminator or pulling out the bed yourself.
Then you carefully put your feet on the floor and carry on with your day. There's much to be done and maybe the spider is in hibernation for now.
Ignorance is bliss. It really is. Most of us prefer bliss on a daily basis. No one blames you for living with the spider. BUT no one will blame you for wanting a life with the spider gone. Spiders are scary. Alcoholism is like a spider. Alcoholism is scary.